A really good night at Ellon Bowling Club Prizegiving last night. Well done to all the trophy winners and members over the season for supporting the club. It was good to see a great crowd and I think we all had a good night with plenty of drinks, food, laughs, games and music to entertain us all.
Congratulations to Shirley Christie for a great year as President of the Club and to Craig Dinnes for being a strong Vice President in support.
Also a big well done to Calum Campbell for providing great entertainment with his vinyl collection and to Grant and Shirley Campbell for coming up with the challenges and questions for our party games too.
It won't be long till the 2024 season will roll around again so I hope everyone enjoys their off season/indoor season.
LEE THOMSON & GRANT CAMPBELL WIN GENTS PAIRS TROPHY
The last final of the season was played tonight, the Gents Pairs Final was played. Presenting the trophy to the winners is president Shirley Christie Lee Thomson far left Grant Campbell 2nd left the runners up Derek Gauld 2nd right and Birnie Roberts far right. Congratulations to all.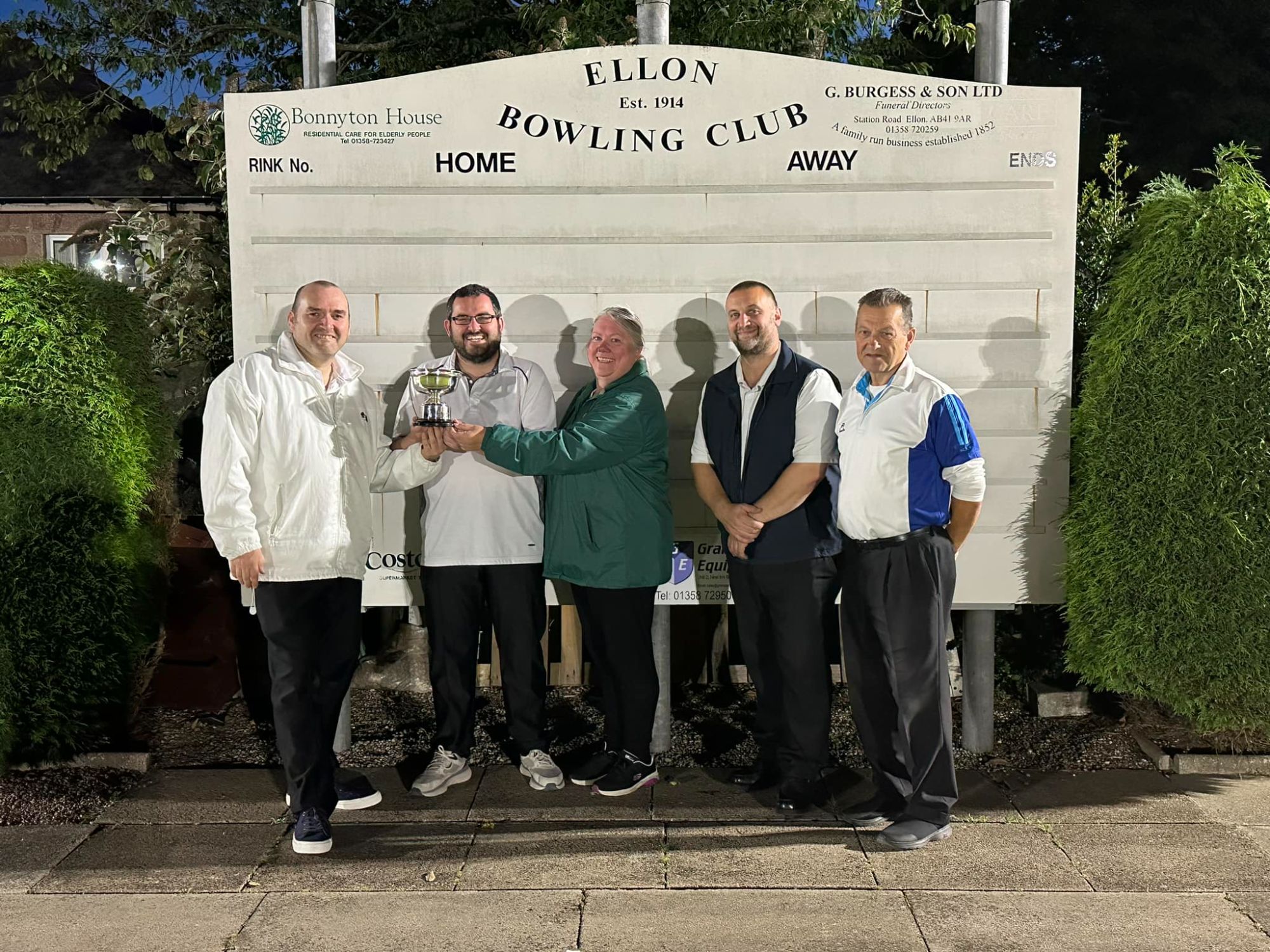 ANN GILES WINS LADIES SINGLES
Congratulations to Ann Giles who today defeated Ann Singer in the final of the ladies singles final. President Shirley Christie presenting the trophy to Ann.
GILLIAN BEATS MUM MAUREEN IN LADIES CHAMPIONSHIP FINAL
Congratulations to Gillian Sinclair who today defeated her mum Maureen Sinclair in the Ladies Championship Singles Final President Shirley Christie presenting the trophy to Gillian.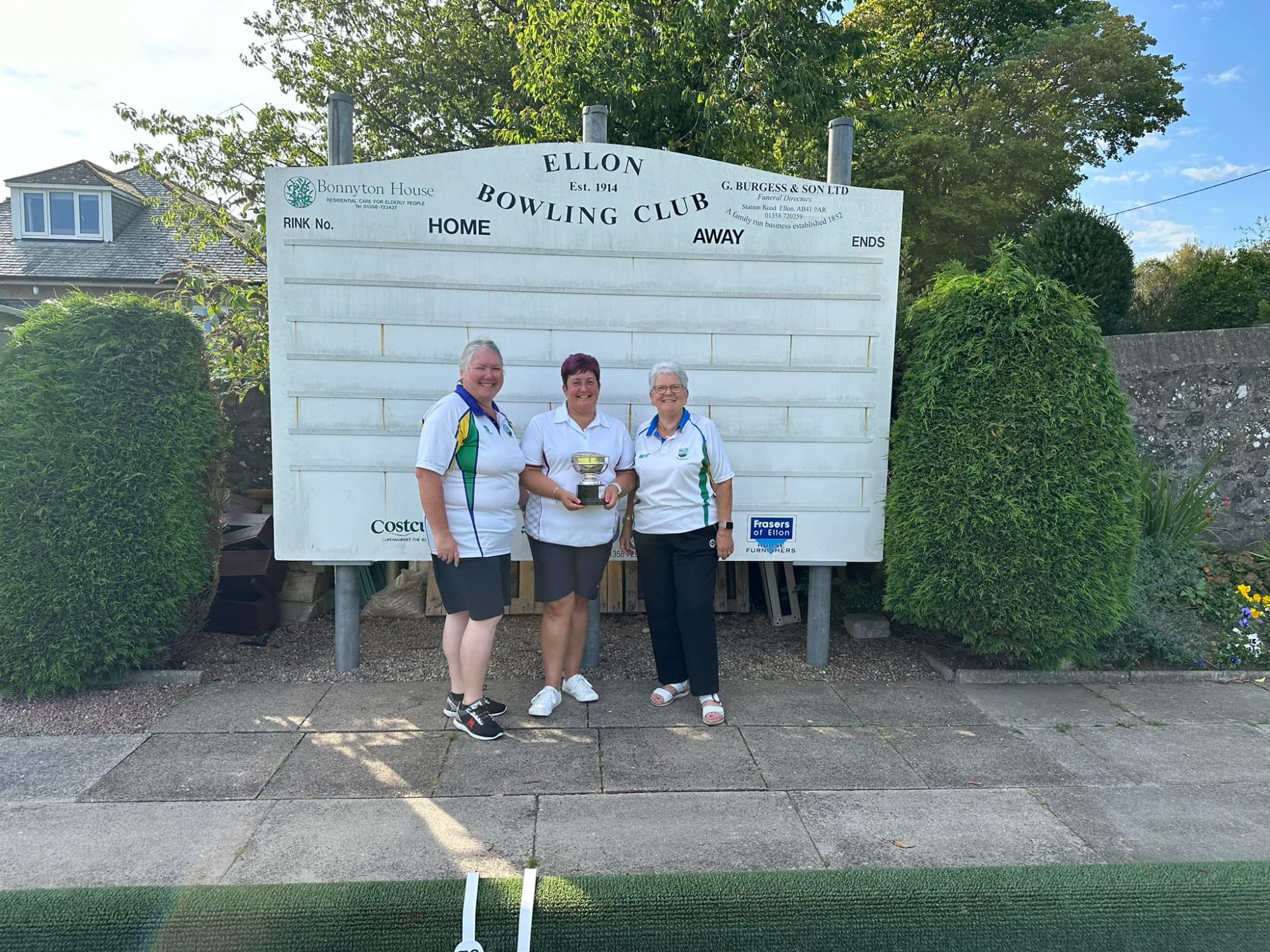 MICK BROADLEY & ALLAN GILES WIN VETERAN PAIRS
Congratulations to Mick Broadley(middle) and Allan Giles who today won the Veteran Pairs Trophy defeating Mary Legge and Gary Simpson in the final. President Shirley Christie presenting the trophy.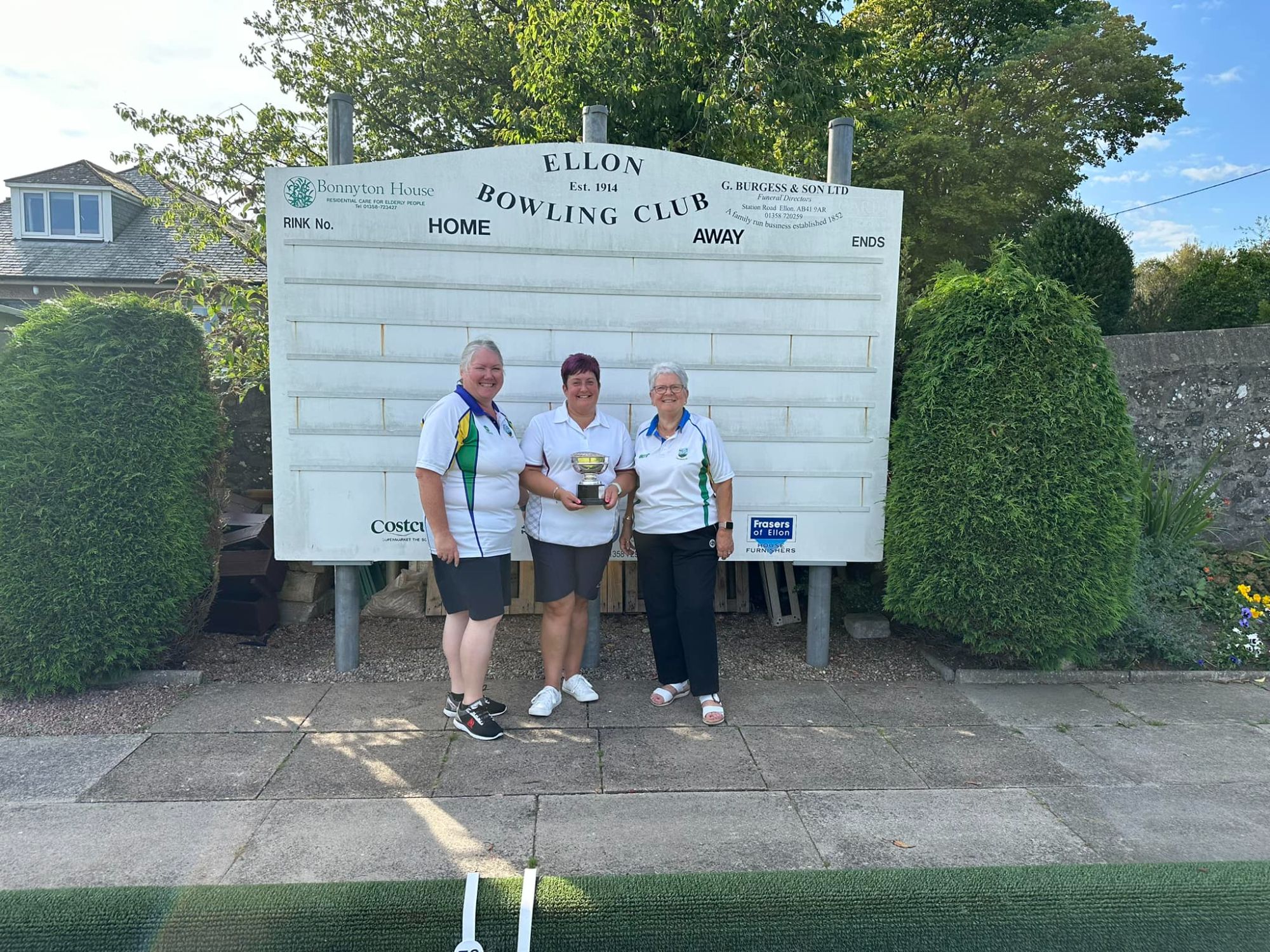 Congratulations to Allan Rennie, Alistair Campbell and Peter Knoll on their triumph.ongratulations to Allan Rennie, Alistair Campbell and Peter Knoll on their triumph.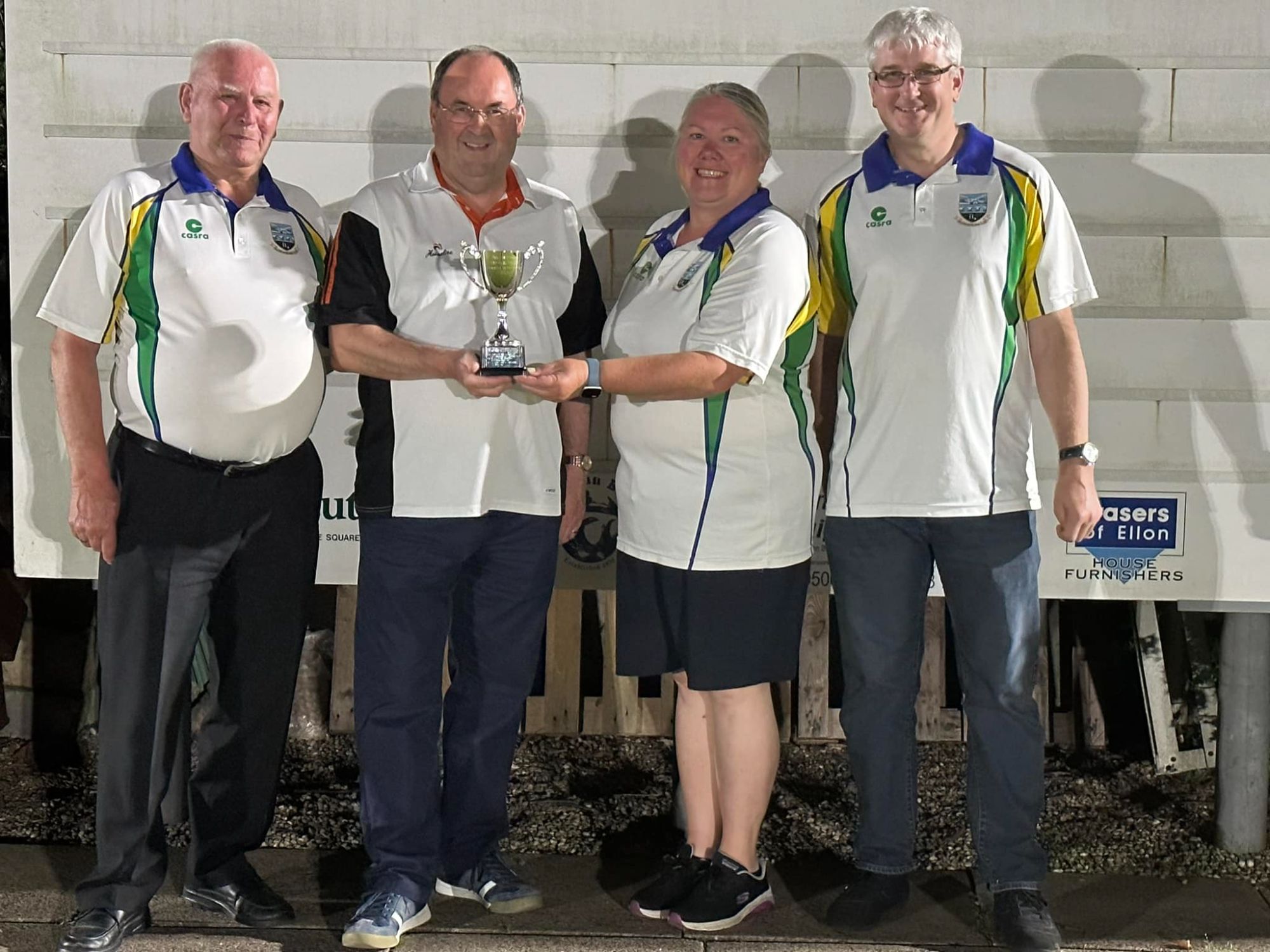 ANDY BRUCE WINS GENTS SENIOR SINGLES
Congratulations to Andy Bruce who this afternoon defeated Birnie Roberts in the Senior Gents Singles Final 21-12. This is Andy's first win in the event. Below Billy Thomson (L) son of the late Rab Thomson who presented the trophy to the club presenting Andy with the cup.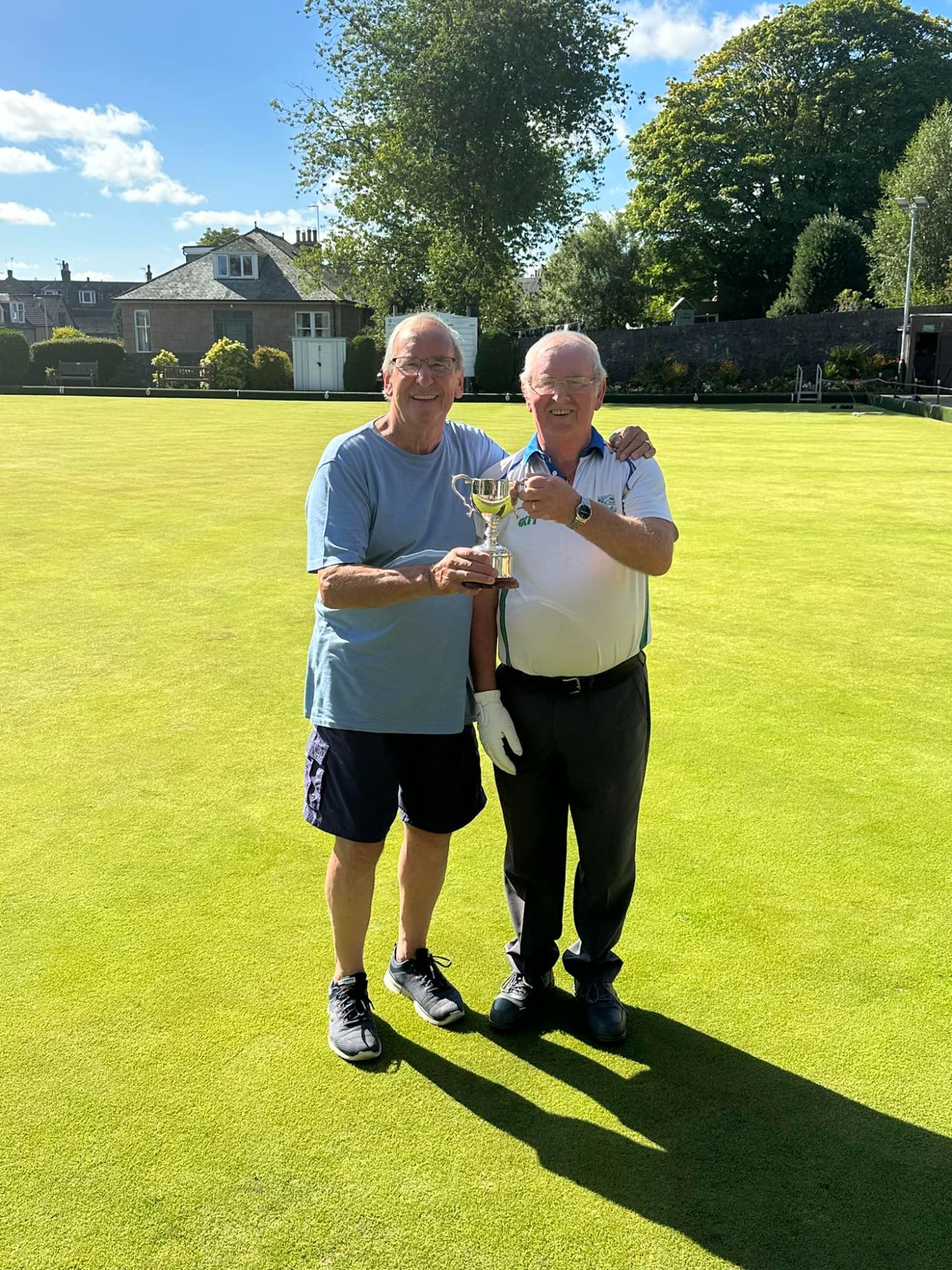 LORNA STRACHAN WINS BEGINNERS TROPHY
An excellent day was had at our beginners competition today with 13 taking part in a round robin tournament. Our winner was Lorna Strachen won against Rachel Skene in a close final. I would personally like to thank all the players for making this event successful. To all my amazing markers and left/right handed players. The ladies in the kitchen Lorraine and Mary and to Ann for opening the bar couldn't have done this without you all.
Trophy was presented by last year's winner Allan and president Shirley.
CHRISTIE AND ROBERTS WIN FLOODLIGHT PAIRS
Tonight saw the final of the Floodlight pairs with Willie Christie and Birnie Roberts coming out on top a Well done to them. Also well done to all the other Players in the final, Mike Stephen and Calum Campbell, Peter Mackie ànd Gary Simpson, and Grant Mcdonald and Bob Thomson.
CHRISTIE AND LEGGE WIN LADIES PAIRS FINAL
Congratulations to President Shirley Christie and her partner Mary Legge who won the Ladies Pairs this afternoon beating Kathleen Gordon and Maureen Sinclair in the final.
Well done to Shirley and Mary on their win.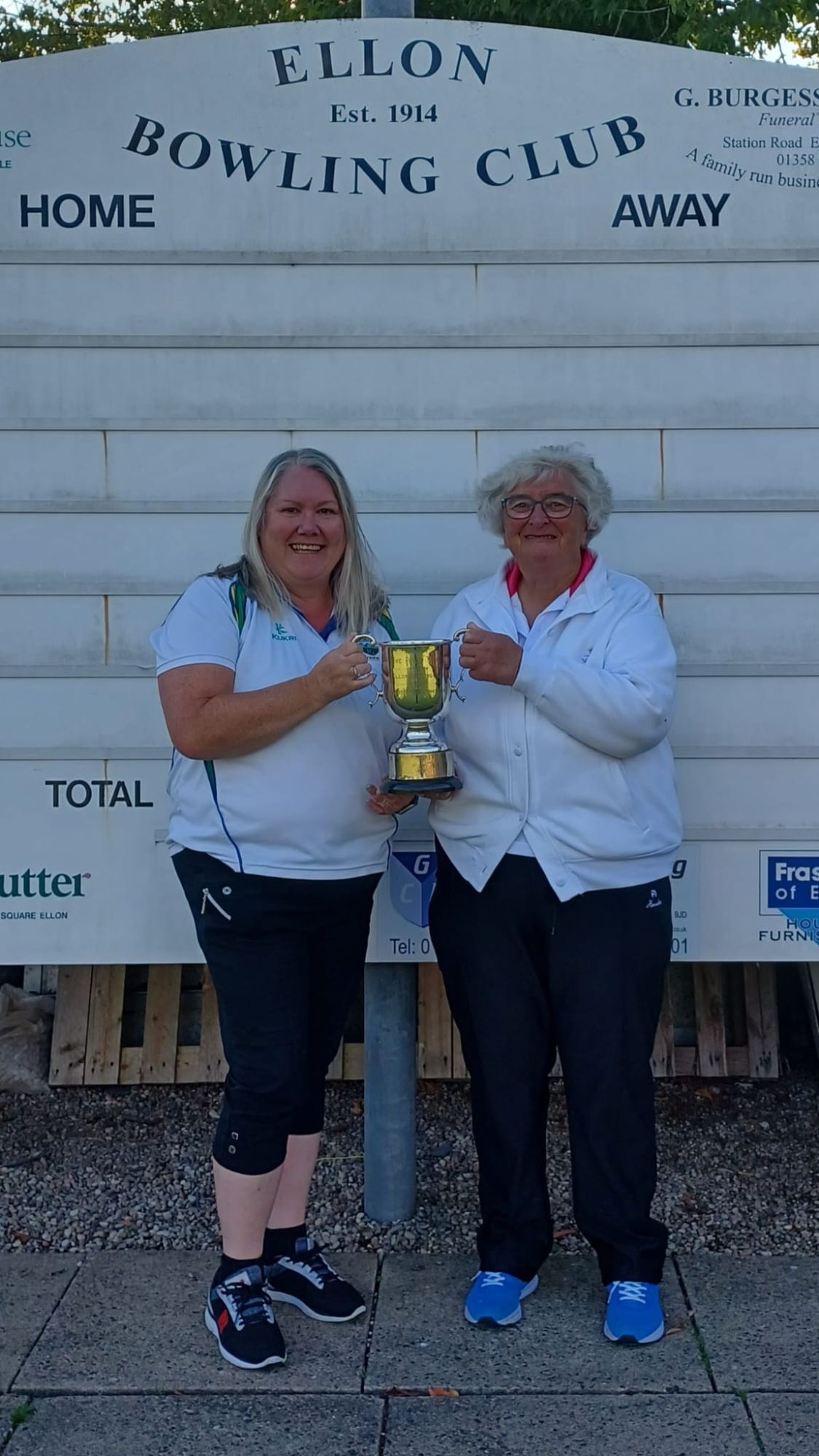 CAMPBELLS COME OUT ON TOP IN TITANIC MIXED PAIRS FINAL
Congratulations to Shirley and Alistair Campbell who won the Mixed Pairs at the club this evening for the 3rd time after a very close battle against Mike Stephen and Mary Legge.
It was a nip and tuck game which went down to the very last end but Mike and Mary could not get the two or more shots they required at the last end, falling short in a terrific game which finished 11-10.
Congratulations to Alistair and Shirley on their victory. Commisserations to Mike and Mary.
Here are Shirley and Alistair being presented with the trophy by President Shirley Christie.
DOZEN UP FOR STEPHEN AS MIKE WINS GENTS TITLE
Congratulations to Mike Stephen who won the Gents Championship Singles for the first time since 2013 this afternoon after edging Paul Clark 21-17 in a closely contested final in front of a sizable crowd.
In a game that had many twists and turns, Mike just edged his way over the line denying Paul his first title in his debut season at Ellon.
Congratulations to Mike and hard lines to Paul. Thanks to Vice President Craig Dinnes for overseeing proceedings this afternoon.
JACK SKENE WINS CLUB'S FIRST JUNIOR CHAMPIONSHIP IN 11 YEARS
Congratulations to everyone who took part and well done to President Shirley Christie and her husband Willie who organised the event. Also many thanks to all the markers who gave up their time to mark the matches during the evening.
This year's Junior champion for 2023 is Zack Skene and the runner up was Sophia Munro.
Here are a select few pictures from the evening and the winners are pictured with President Shirley and the last winner of the Junior Singles Grant Campbell.
Last night (21/8/2023) saw two tremendous semi finals in our Mixed Pairs competition.Mike Stephen and Mary Legge won a great encounter against Maureen Sinclair and Mike Cockburn after securing the two shots they needed to win 14-13.In the other semi final, Shirley and Alistair Campbell recovered from losing a 5 at the second last end to secure their place in the final after getting the three shots they required to win 13-12 against Ann and Charlie Singer. Congratulations to Mike and Mary and Alistair and Shirley who will contest the Mixed Pairs final after tonight's events and commiserations to the losers.
JP LAWRENCE 2-4-2 WINNERS 2023
Congratulations to the "Two Allan's" Allan Stephen and Allan Rennie who won the JP Lawrence 2-4-2 Pairs competition this afternoon. They cruised to the title after an impressive semi final win over Calum Campbell and Les Keith before carrying that form into the final by dispatching Bob Thomson and Grant Campbell.
Well done guys. A well deserved triumph.
Here they are accepting the trophy from Past President Peter Mackie.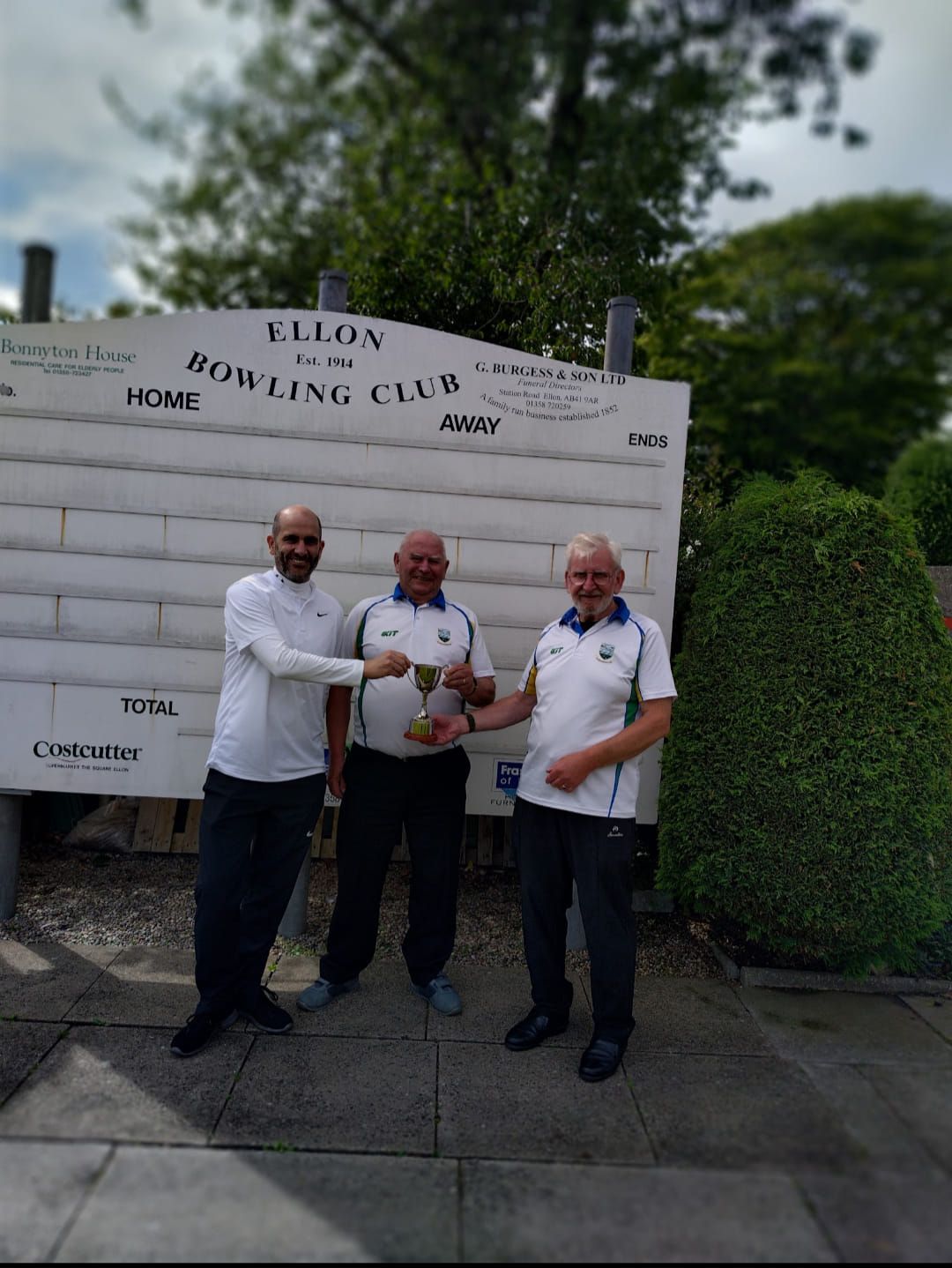 Well they have just gone and done it. Top ten winners 2023 with a 6-2 win. Well do to all of them. Daniel in the singles, John and Gary in the pairs, Stuarty, Lee and Mike in the triples and Willie, Paul, Phil and Robert in the fours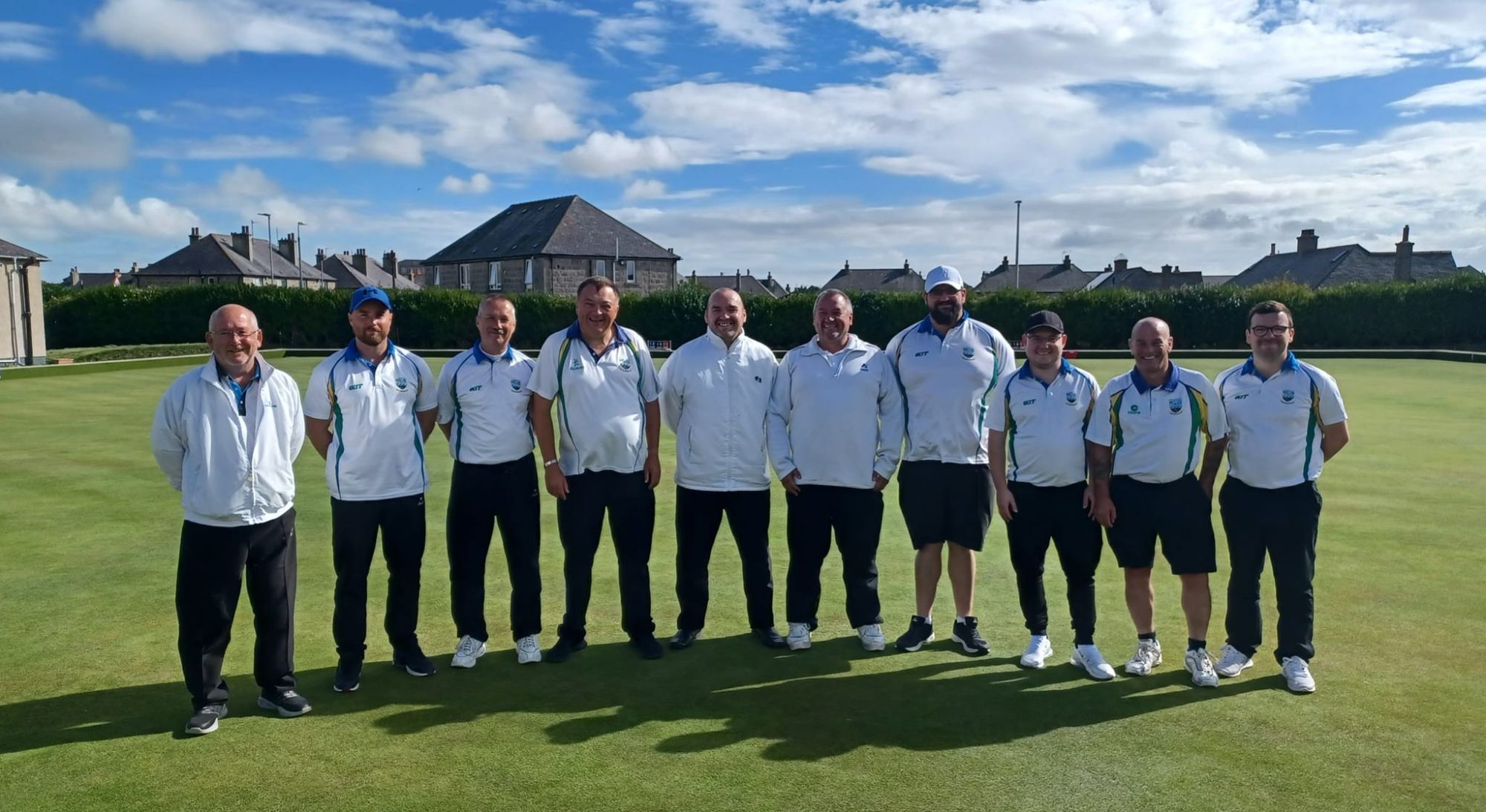 MIKE STEPHEN'S SUPER 6 BEAT TITLE HOLDERS
Congratulations to the 2023 Super Six Tournament Champions for this year:
Mike Stephen (c), Mary Legge, Alistair Campbell, Calum Campbell, Shirley Campbell and Grant Campbell.
Here is captain Mike alongside sponsor Phil Anderson and Maureen Sinclair with the Jock Sinclair Cup.
BOWLSUPFORCANCER 24 RAISES AROUND £20K FOR CLAN
On Friday 1st July, the BowlsupforCancer team took on the 24hr bowlathon challenge from 7pm that evening until 7pm the following evening to raise as much money as possible for Clan. With an original target of £10K, they managed to raise around £20k double the original target. Ellon Bowling Club was proud to host and be apart of this groundbreaking charity event. Pictured back row from left: Alistair Campbell, Craig Dinnes, Mike Stephen, Allan Giles, Scott Runcie, Calum Campbell, Grant Campbell and Mike Presly, Front row from left: Andrew Rielly, Fiona McPherson, Elizabeth Fraser, Shirley Campbell, Andrew Thomson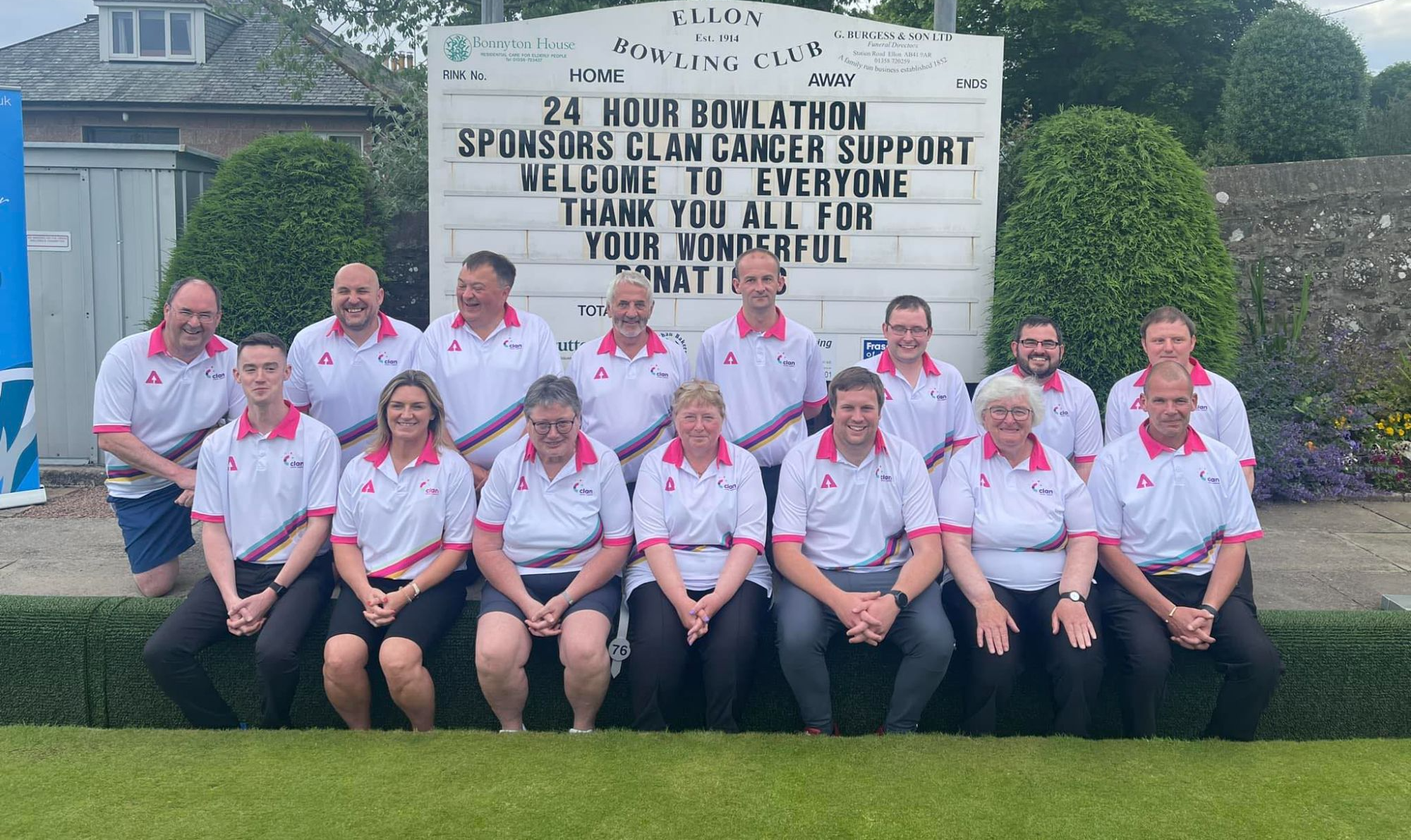 ELLON A ARE CHAMPIONS FOR SECOND YEAR RUNNING
Ellon A have won the Buchan League overall for the second year running after taking on New Deer and winning 61- 44. Well done boys!
If you would like to enter the mixed pairs, please put your name on the sheet in the clubhouse by Wednesday 12th July.
BOB THOMSON AND MICK BROADLEY BEAT MIXED TWO BOWL PAIRS TITLEHOLDERS
Congratulations to Bob Thomson and Mick Broadley who won the Mixed Two Bowl Pairs. Runners up were Calum Campbell and Grant Campbell
ELLON GENTS KNOCKED OUT OF FORBES HENDRY
Ellon gents unfortunatatey got beat in the Forbes Hendry overall in their match against Kemnay Bowling Club. While our away team won by 5 shots at Kemnay, our home team got a beating to Kemnay's away four which was enough to send them through to the next round.
Congratulations to Peter Knoll and Phil Anderson who beat Mary Legge and Robert Marshall in the final of the Fraser Pairs.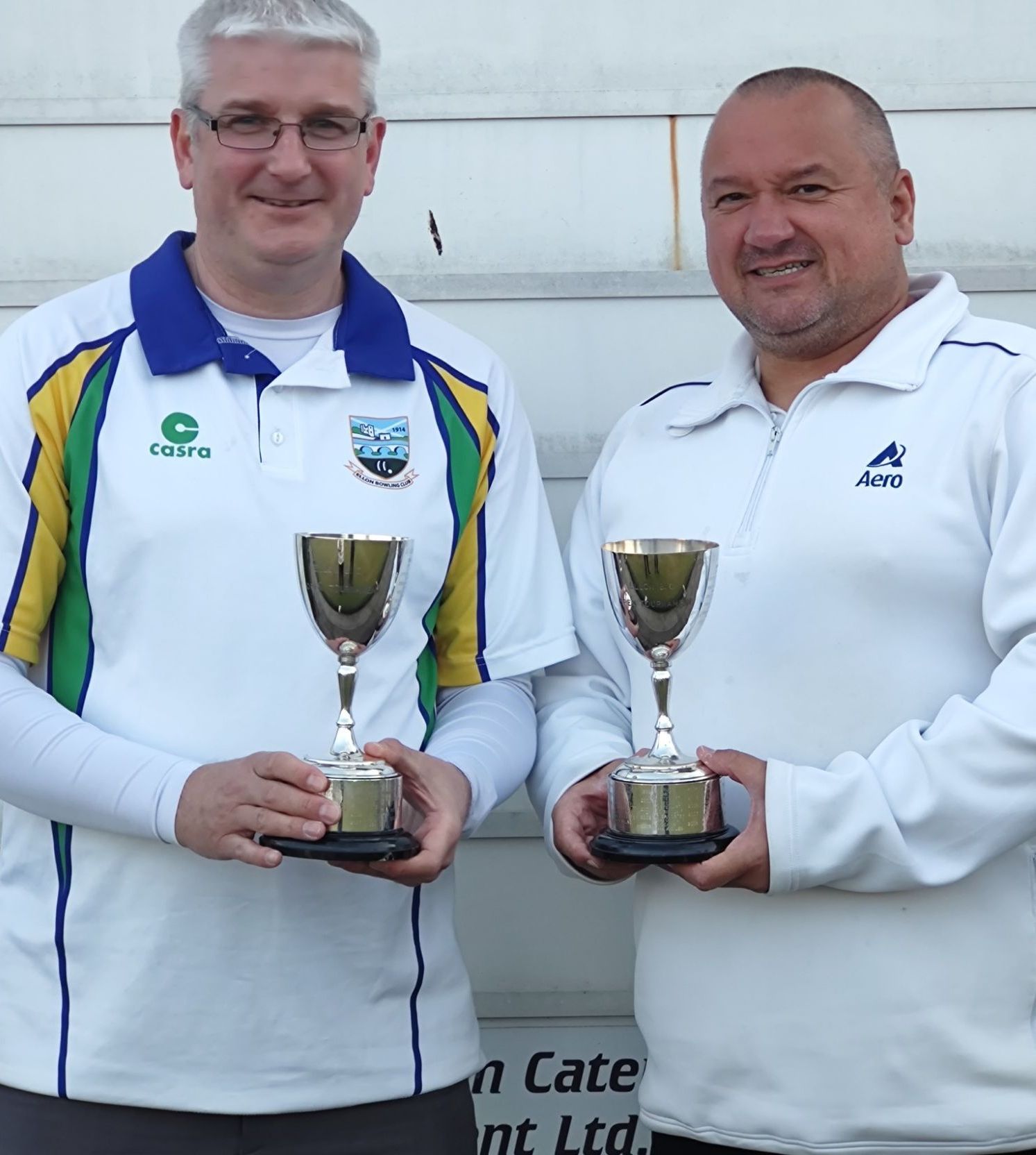 We will be holding bingo nights in the clubhouse on the following dates;
2023
15th July, 19th Aug, 16th Sep, 14th Oct, 18th Nov, 31 Dec
2024
20th Jan, 17th Feb, 16th Mar, 13th Apr, 18th May, 15th Jun
Eyes down and good luck everyone
Congratulations to the winners of the club triples final was Skip Grant Campbell, second John Watson and lead Birnie Roberts. Who won against skip Jim Elrick, second Daniel Watson and lead Les Keith. Well done guys
ROBERT MARSHALL TRIO WINS ELLON INVITATION TRIPLES
Congratulations to the Invitation Triples Winners at Ellon Bowling Club today: Paul Clark , Daniel Watson and Robert Marshall pictured with President Shirley Christie . They defeated Willie Christie , Stuarty Alexander Thom and Gary Simpson in a closely contested final. Well done the winners. Thanks to all who took part in today's events in rainy conditions.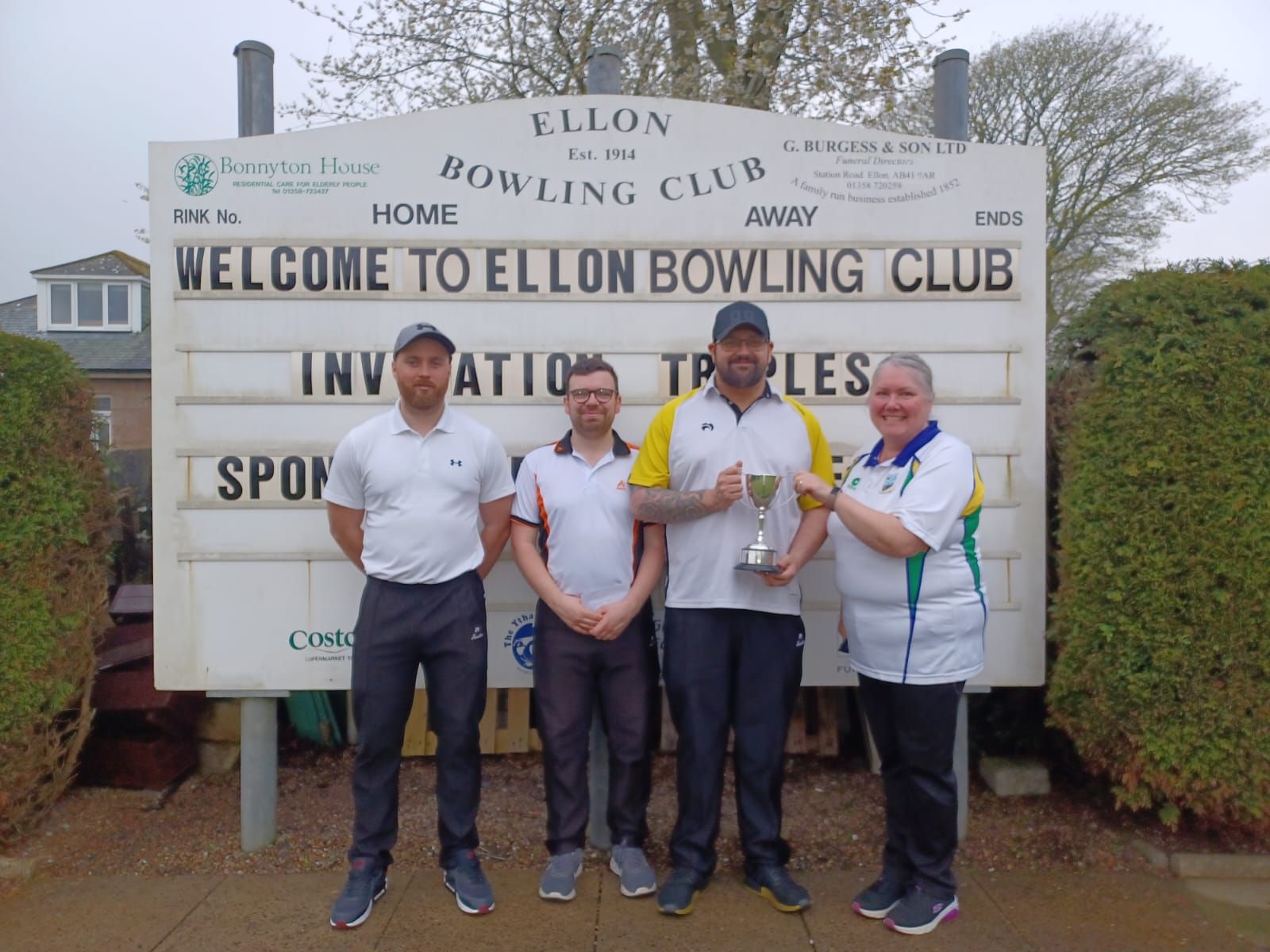 SHIRLEY CHRISTIE WINS ADLBA SINGLES CHAMPION OF CHAMPIONS
Congratulations to Shirley Christie who won the ADLBA Singles Champion of Champions beating Laurencekirk 21-10.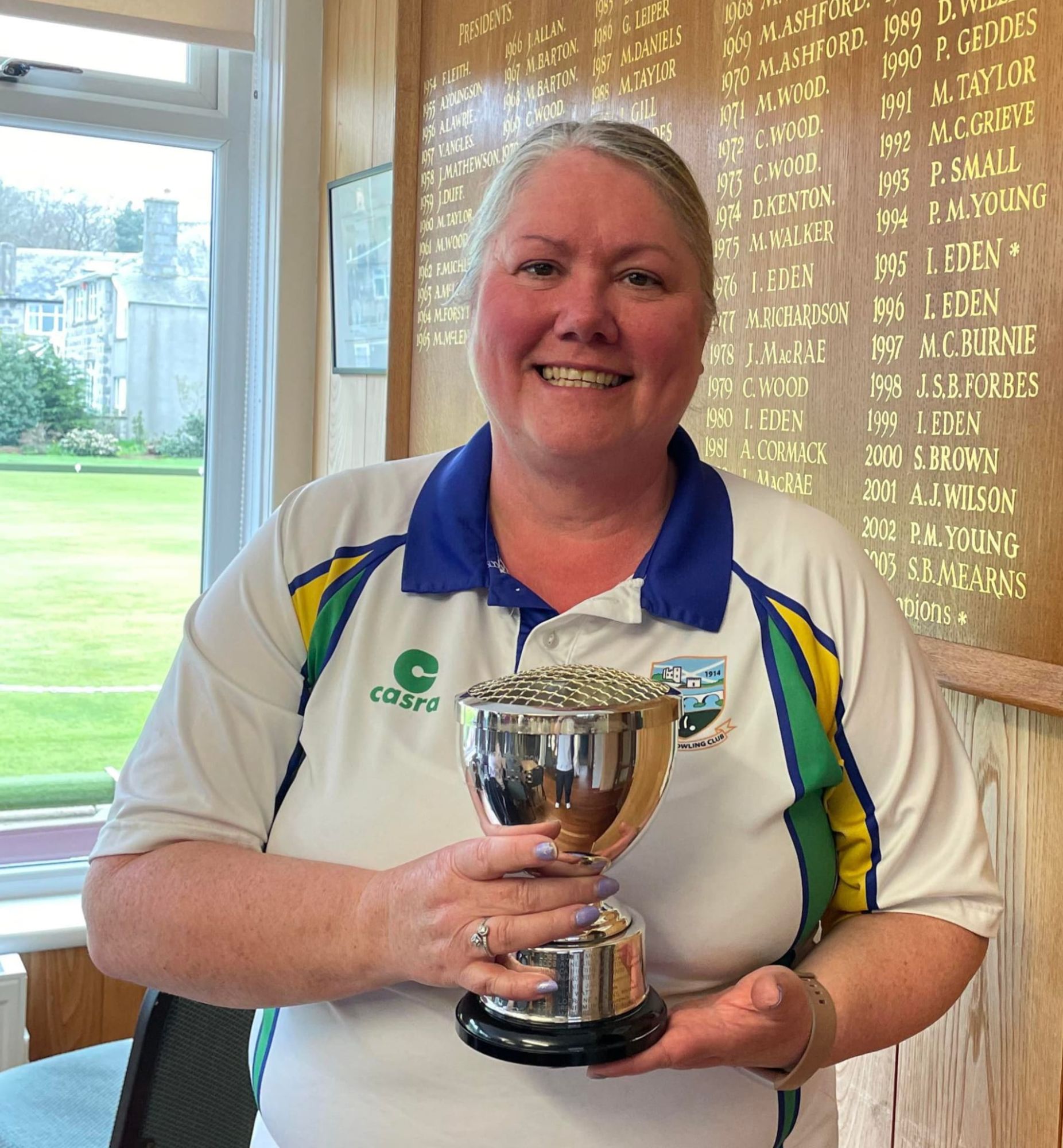 Congratulations to Mike Stephen (SKIP), Brian Henry, Grant McDonald and Gavin Elphinstone who beat Phil Anderson (SKIP), Rob Gibb , Les Keith and Ann Giles in the final of the Club Fours last night.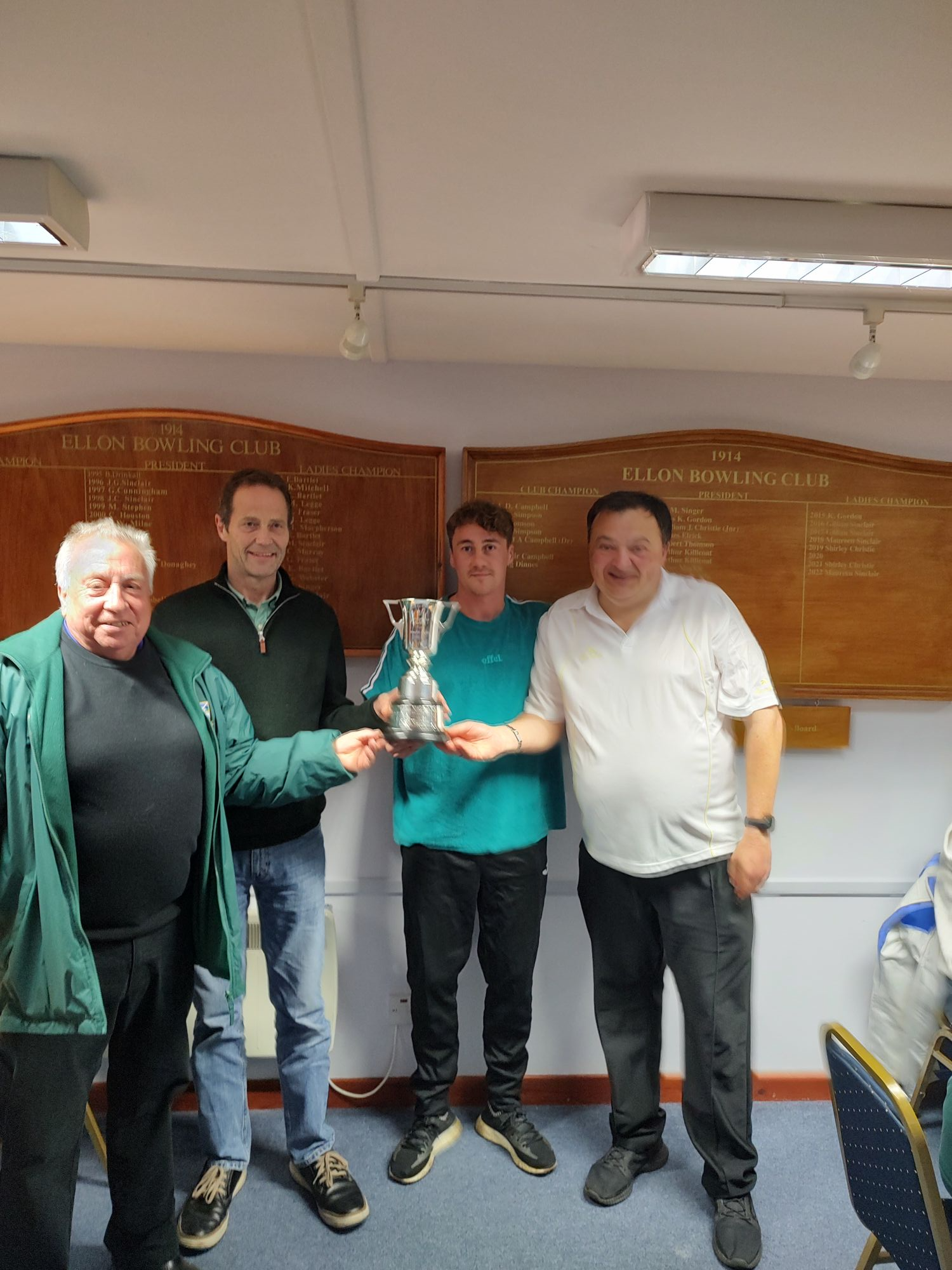 Beginners coaching and practice will be provided for any interested members on the following date;
Saturday 27th May 10:00 - 12:00
Saturday 3rd June 10:00 - 12:00
Saturday 17th June 10:00 - 12:00
Remember that as a member, you have the right to use club equipment to practice whenever there is no official booking of the green. Check the diary on the locker room desk for details.
DRESS CODE FOR COMPETITIONS
The following regulation dress must be worn by all competitors at the FINALS of competitions or when representing the Club in external competitions: Grey or black trousers or grey or white skirts, white shirt with collar/jacket/white top (which includes cardigans, pullovers, zip ups, etc), white waterproofs. Footwear must be approved bowling shoes.
Please note that domestic competition rules are posted on the clubhouse notice board and are attached to the annual calendar there.
Application lists for other competitions will be posted on the clubhouse notice board as follows - Gents Senior Singles, Ladies Senior Singles and Senior Mixed Pairs on 15th May (closing 10th June); Mixed Pairs (1 lady+1 Gent) & Ladies 2 Bowl Pairs (Skip & Lead) on 15th May (closing 8th June); Fraser Pairs on 8th May (closing on 10th May) - to be played on 28th May and 4th June; 2 Bowl Mixed Pairs (Skip & Lead) and Gents 2 Bowl Singles on 15th May (closing 8th June); Target Bowls 15th May (closing 14th June) and to be played on 17th June; JP Lawrence Pairs (2-4-2) on 19th June (closing 19th July) to be played 24th - 30th July; Floodlit Triples (League) on 24th July (closing 7th August) to be played 14th August - 1st September; Floodlit Pairs 24th July (closing on 16th August) to be played 5th - 10th September.
A hat night will be held each Wednesday evening from 19th April until 13th September inclusive. Players should be registered at the clubhouse by 6:45pm for a 7pm start to play. Hat night scores from play on the first Wednesday each month, will count towards the Wappinshaw Trophy.