On Saturday 18 September, there will be a Try Bowls Day on the green for people who might like to give the game of bowls a go, but never knew how to go about it. If you know anybody who might want to give the game a try, take them down or let them know about the day. It starts at 1pm and lasts till 5pm. If you yourself fancy coming down to watch or even offer some advice to any novices who appear, that would be great too. Teas/coffee will be available and the bar will be open.
On Sunday 19 September, the green closes for the season. At 2pm, there will be teas/coffee, followed by a friendly Hat Night style match between the President and the Vice President. Come on down (as they used to say in a well-known TV programme) and have your last roll on the green for the season.
WILLIE CHRISTIE AND MIKE GIBSON WIN JP LAWRENCE PAIRS
It's a wrap the final, final of this season has been played. Willie Christie and Mike Gibson won the JP Lawrence pairs against Allan Giles and Peter Mackie. Well done to the winners and commiserations to the runners up. It has been a very busy couple of months but we made it. Hopefully we will see some of you next week at the try bowls on Saturday or closing of green on Sunday.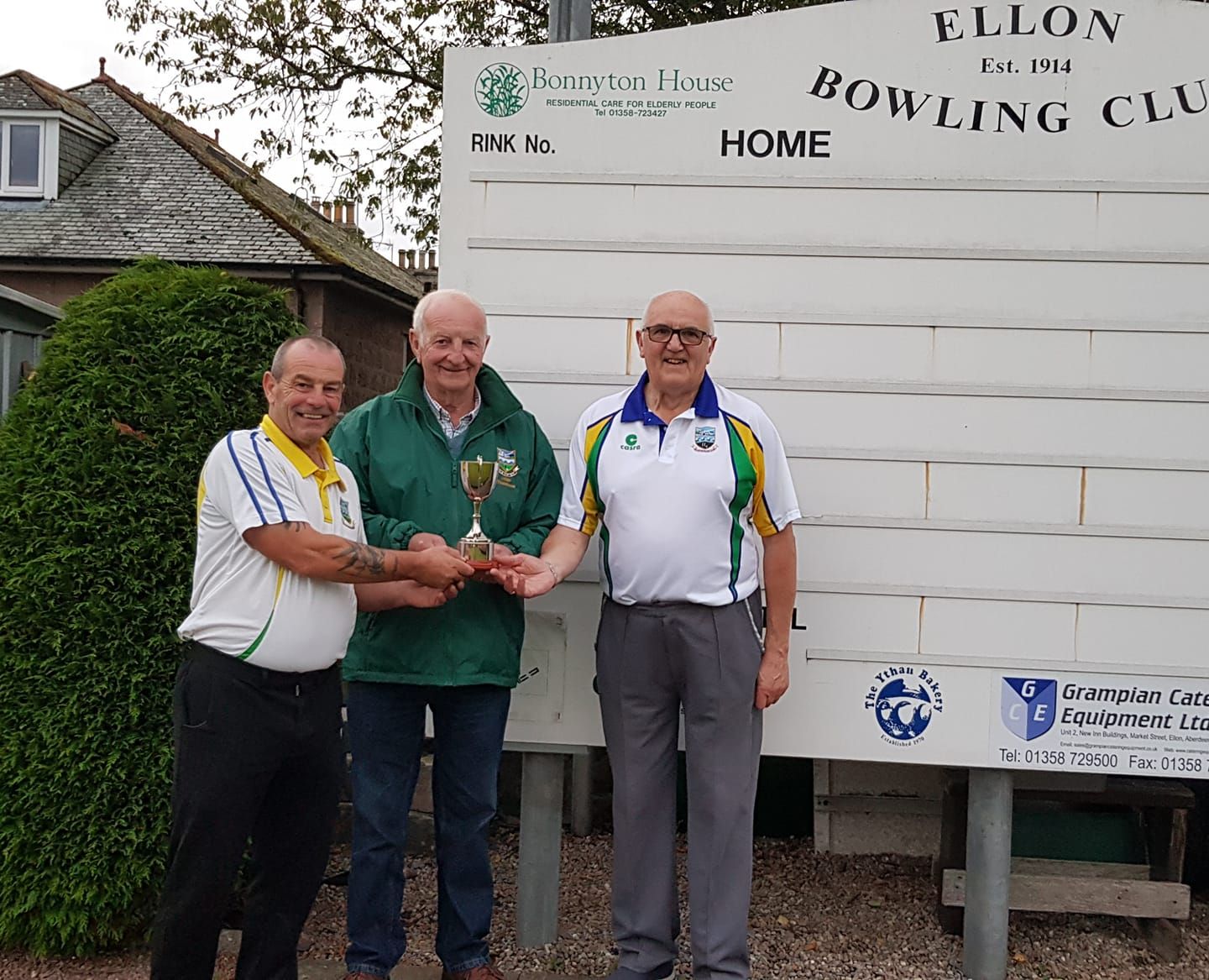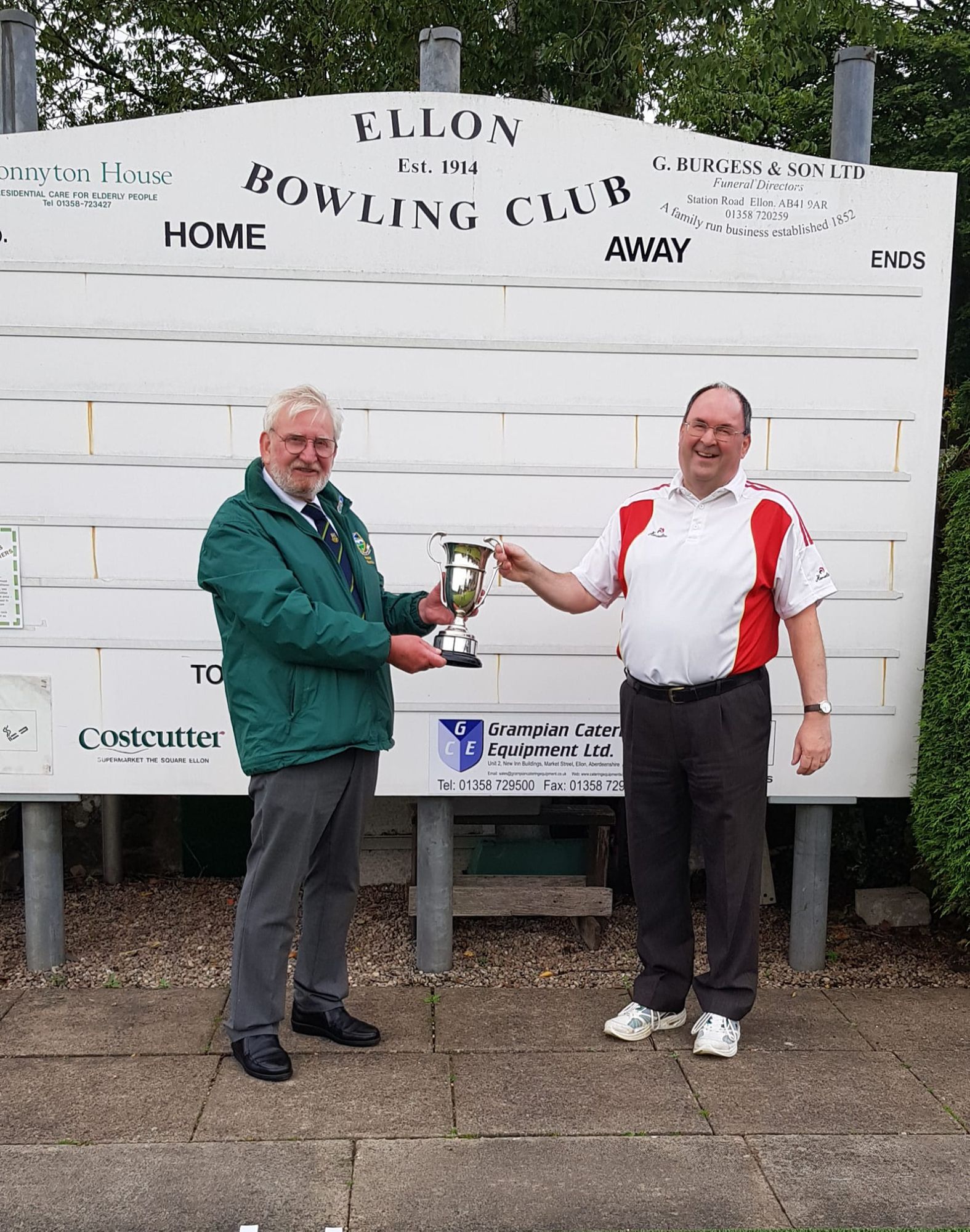 ALISTAIR CAMPBELL BEATS ANDY FUYRE TO BECOME ELLON CHAMPION FOR THE 10TH TIME
The Gents champion for this year is Alistair Campbell after a closely fought game against Andy Furye winning 21-19. Well done Alistair commiserations to Andy. His son Grant Campbell became the champion of Ellon for the first time in 2019, so the title stays in the Campbell family. Left photo: Vice President Peter Mackie presenting the trophy to champion Alistair Campbell and right photo: Son and past champion Grant Campbell passing trophy to his Dad Alistair Campbell
SHIRLEY BEATS SANDRA TO RETAIN THE LADIES CHAMPION TITLE
The ladies champion was won by Shirley Christie who played against Sandra Morrison. Well done Shirley and commiserations Sandra. Shirley had to wait a year but she retained her championship with great flare winning 21-2. Pictured from left: Vice President Peter Mackie handing the trophy to Ladies Champion Shirley Christie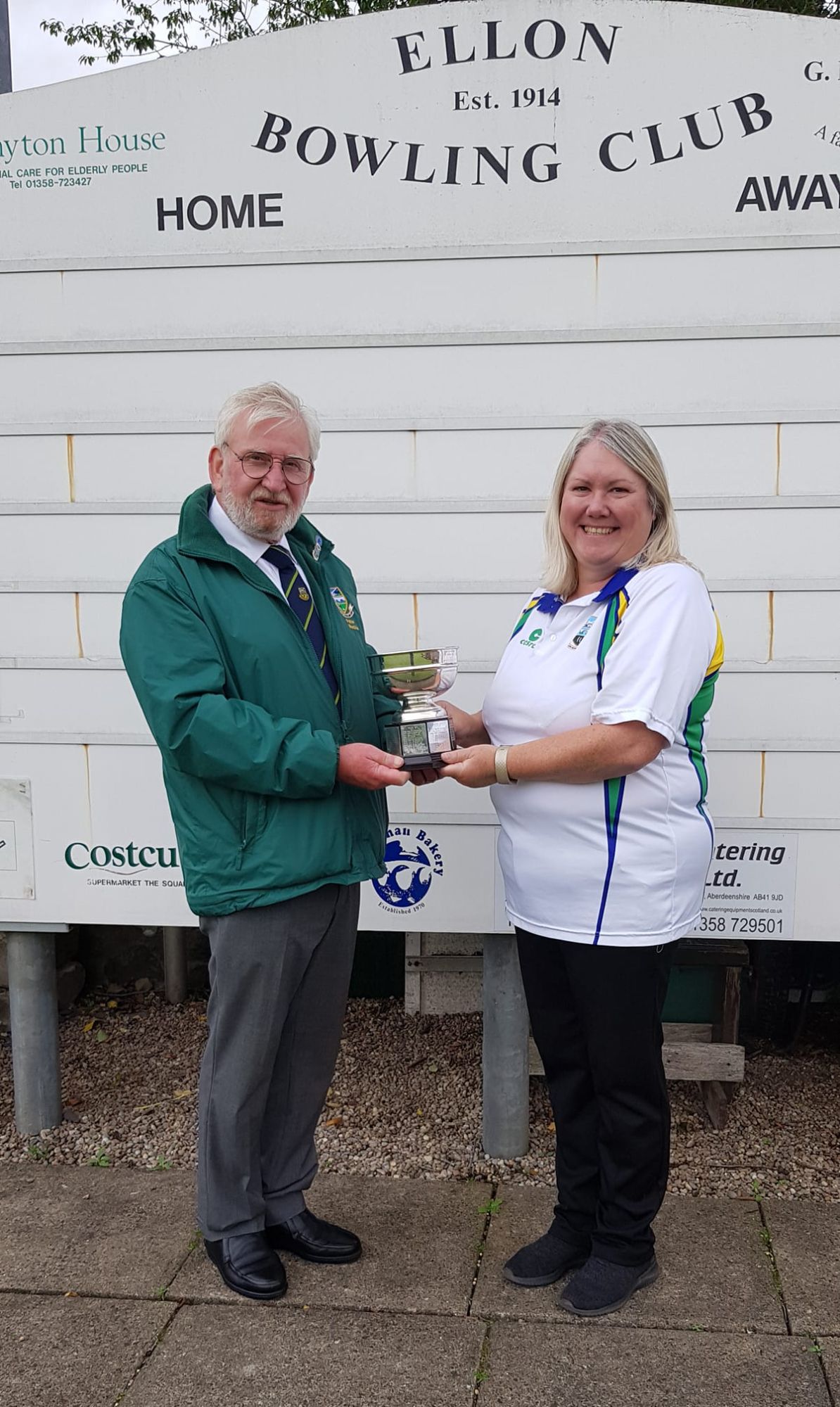 WILLIE AND PHIL TRIUMPH IN FRASER PAIRS FINAL
Tonight saw the final of the Fraser Pairs take place between Willie Christie and Phil Anderson against Johnstone Riddell and Mick Broadley. The final went down to the wire. Willie and Phil went into an early 5-0 lead after 4 ends however Johnstone and Mick struck back with a couple of singles then a. 3 and a 4 to lead 9-5. Willie and Phil subsequently scored a 4 themselves to tie the game with 3 ends remaining. Johnstone and Mick then scored another 1 shot with Phil and Willie picking up a 2 on the penultimate end. Willie and Phil were lying 1 shot when Mick played through and picked up the Jack he was unlucky to see the Jack bounce off Johnstone's back bowl to land about 4 feet away but they were lying 1 with a measure for 2. With his third bowl Phil drew with perfect weight to with 18 inches of the Jack and with one bowl left Mick attempted to draw the winner but with a perfect line he just drew up a couple of feet short and therefore Willie and Phil run out the winners. Congratulation to Willie and Phil and commiserations to Johnstone and Mick.
Below President Arthur Killicoat presents Willie Christie and Phil Anderson with the trophies with Johnstone Riddell and Mick Broadley to his left.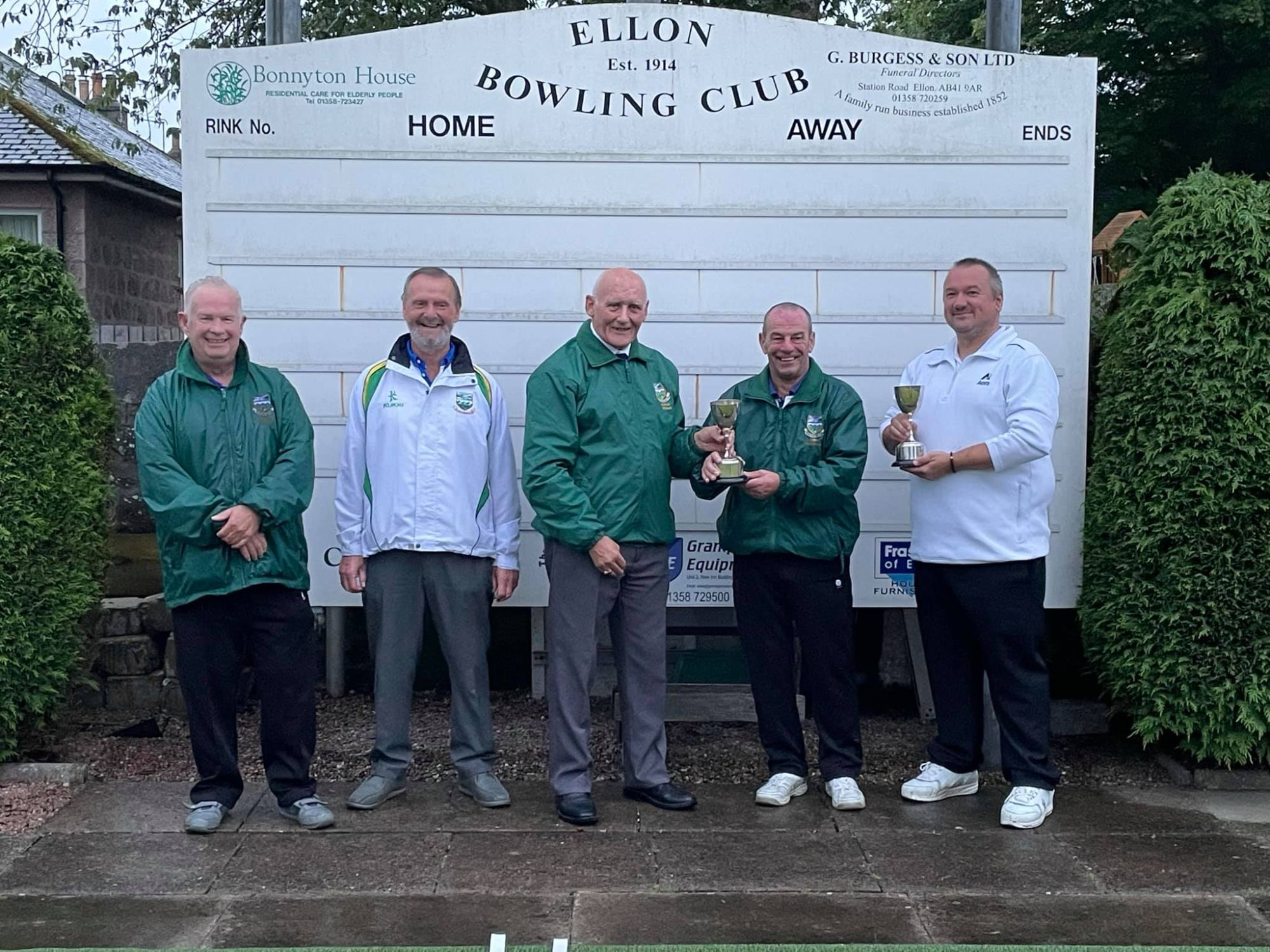 FATHER AND SON WIN FIRST PAIRS CHAMPIONSHIP DRAWN OUT OF THE HAT
Thursday saw the Gents Pairs Final being played between David Taylor and Jim Elrick against the father and son combination of Grant and Alistair Campbell. It was a beautiful night for the game but it still grew dark pretty quickly. It was a tight game after 9 ends it was 8-7 in favour of the Campbells and after 10 ends the score stood at 11-7, Dave and Jim scored a single on end 11 but the next three ends saw the Campbell team score 2's on each end to make the final score 17-8 with an end to play. So congratulations to Alistair and Grant and Commiserations to Dave and Jim.
Below President Arthur Killicoat presenting the Gents Pairs Trophy to Grant Campbell with Alistair to his left. On the right of Arthur are the runner ups Jim Elrick and David Taylor.
SANDRA AND SHIRLEY WIN THE LADIES SINGLES
The Ladies Pairs final was played today with Sandra Morrison and Shirley Christie up against Ann Giles and Mary Legge . It was another tight final after 12 ends the score stood at 10-9 for Sandra and Shirley they then scored a 3 and a 1 and on the last end scored another 2 so the final score ended up as 16-9. So congratulations to Sandra and Shirley and commiserations to Ann and Mary. Pictured from left: Champions Sandra Morrison and Shirley Christie, Club President Arthur Killicoat, Ann Giles and Mary Legge.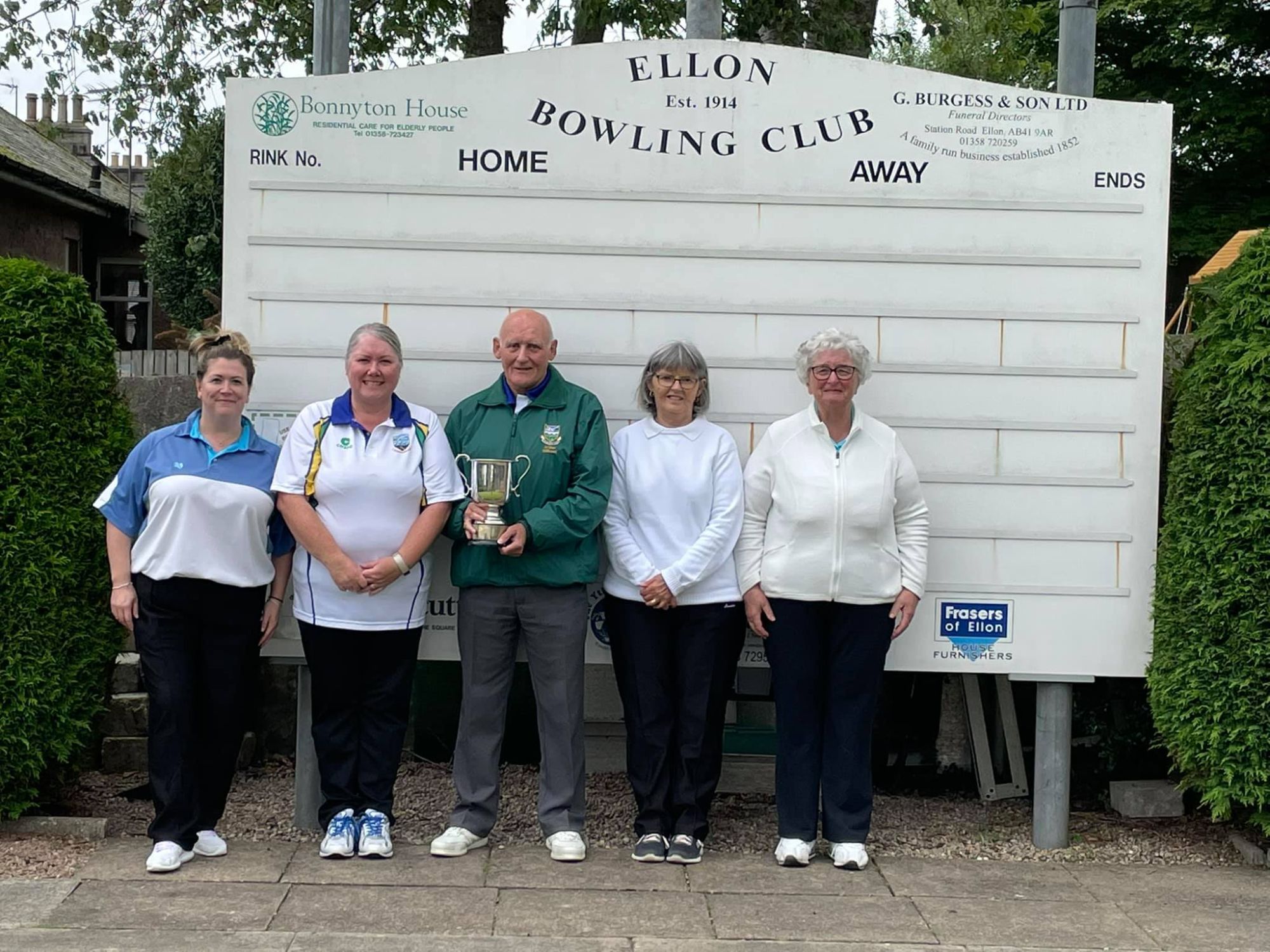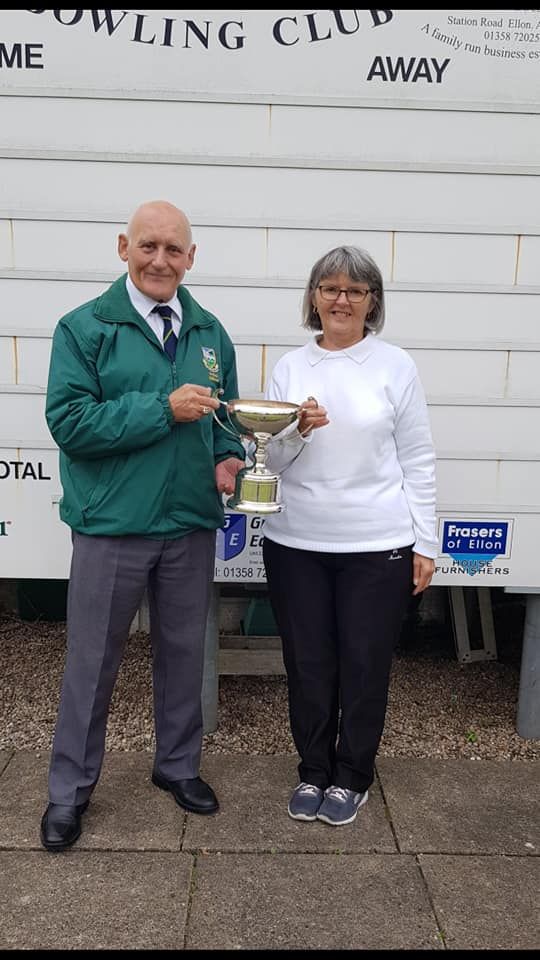 BIRNIE AND ANN TRIUMPH IN THEIR HANDICAP SINGLES FINALS
The rain stayed off for the handicap singles finals. The winner of the mixed handicap was Birnie Robert's and the ladies handicap winner was Ann Giles. Hard luck to the runners up. Club President Arthur Killicoat was on hand to present the trophies.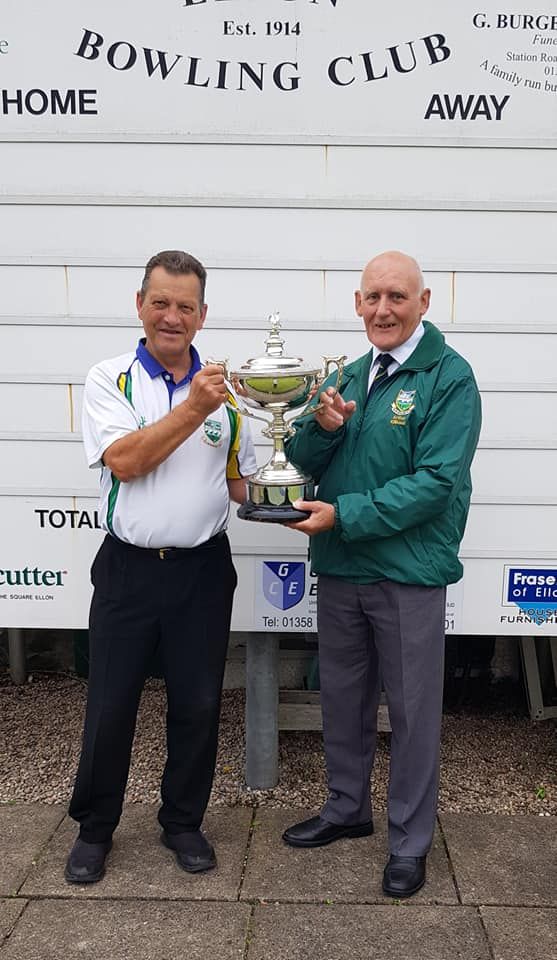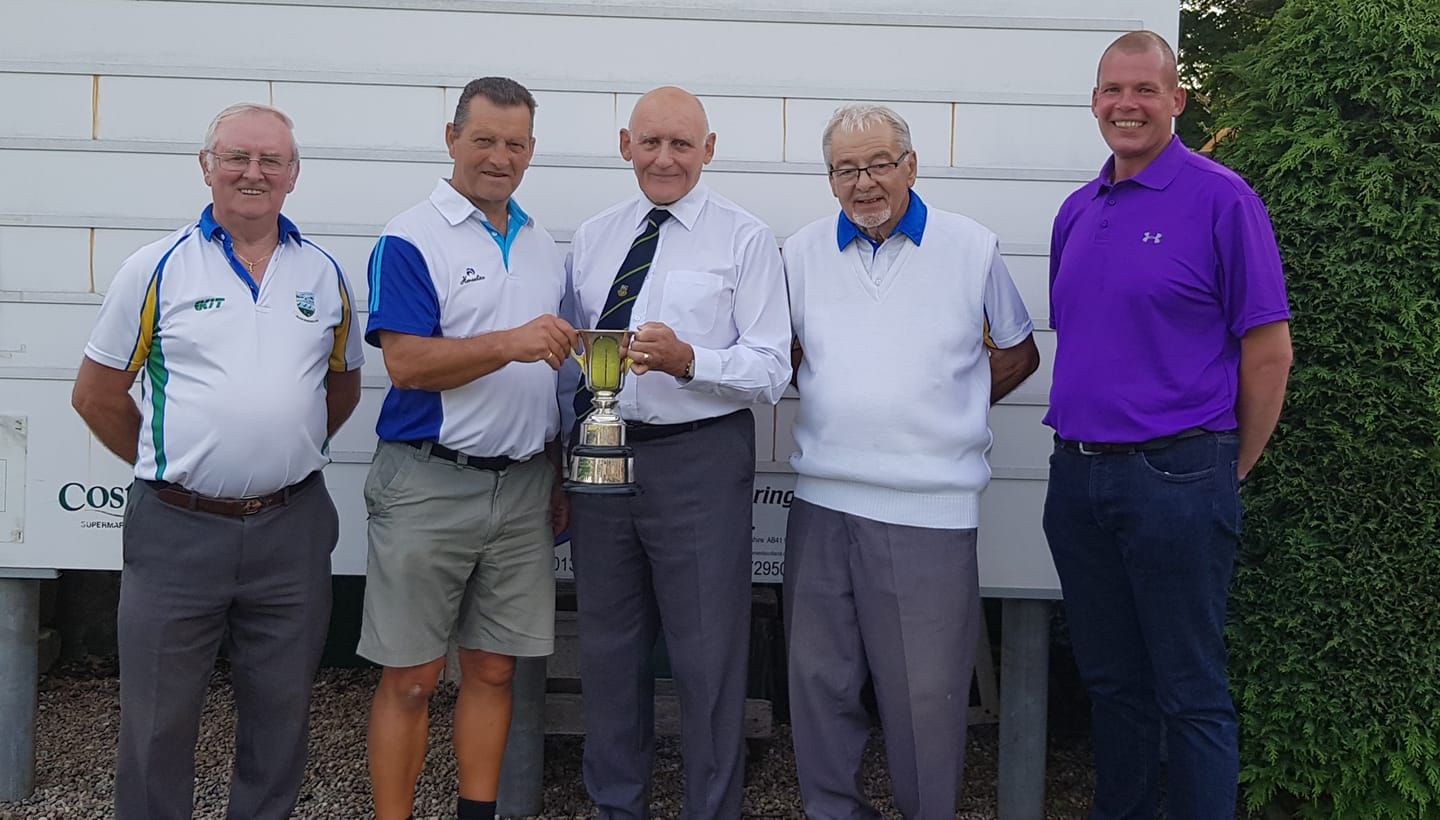 The winner of the 4's today were Andy, Bill, Scott and Birnie (skip) it was a super day for playing bowls and was a good final to watch. Hard luck to the runners up. Pictured from left: Andy Bruce, Bernie Roberts, Club President Arthur Killicoat, Bill Christie Snr and Scott Buchan.
JIM ELRICK TRIO WINS THE TRIPLES
The winners of the club triples were Mary Legge, Willie Christie and skip Jim Elrick. Well done and hard luck to the runners up. Pictured from left: Allan Giles (presenting the trophy), Willie Christie Jnr, Mary Legge and Jim Elrick.