BOWLS SCOTLAND HAVE PUBLISHED A VIDEO WITH A Q&A REGARDING CORONAVIRUS AND CLUB SUPPORT.
COMMITTEE UPDATE REGARDING CORONAVIRUS
Since our Committee's earlier views, the most recent advice from the Government, to stay at home, really means that Ellon Bowling Club cannot open until furthur notice. It has been made very clear by the Government that we have to stay at home.
Shop for basic necessities – Once a day
Take exercise alone or with persons from household - Once a day
Medical reasons or care for a vulnerable person
No social events of any sort can now take place and thias includes weddings and christenings, so it would be really irresponsible if we allowed the green to be used for members to congregate, even though it happened to be only six rinks of singles. To be honest, the decision has been made for Ellon Bowling Club by the Government.
As for subscriptions we would like to suggest that members still pay their subscriptions, as has been suggested by Bowls Scotland and what happens with the payments can be reviewed later - refund, partial refund, reduction in next Season's subscriptions or whatever. This will have to be done by letterbox drop or by post, since the meetings to collect subscriptions on 9-10th April will also have to be postponed. Any future decision regarding opening of the green will be reviewed regulary, as circumstances change or situation develops.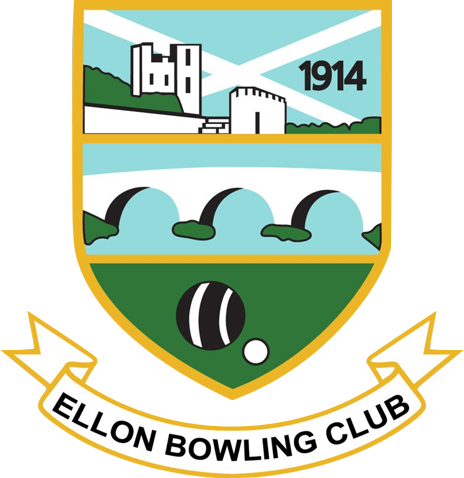 SHIRLEY CHRISTIE WINS LADIES CHAMPIONSHIP SINGLES
Shirley Christie has won the Ladies Championship singles for the first time beating former winner Carol Murray in the final 21-12.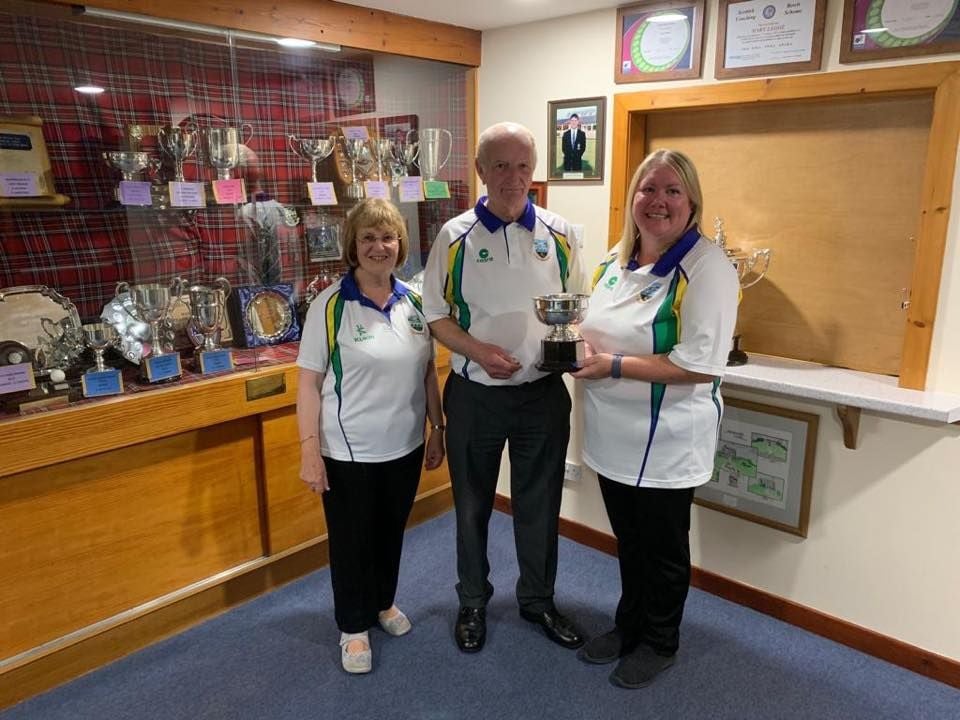 DR CAMPBELL WINS GENTS CHAMPIONSHIP
Dr Grant Campbell has won 21-13 against Derek Jobson in the final of the gents championship final. Grant also won the Mixed pairs with Ann Singer and the Handicap Singles.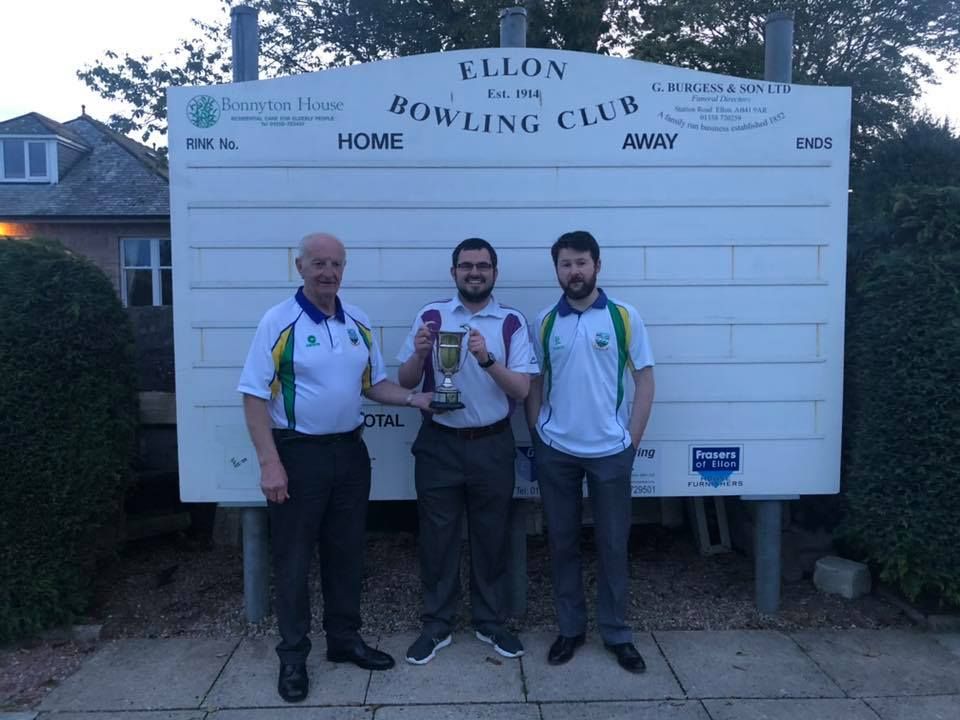 ALBERT LOW WINS GENTS SENIOR SINGLES
Albert Low has won the Gents Senior Singles beating Johnstone Riddell 21-14 in the final.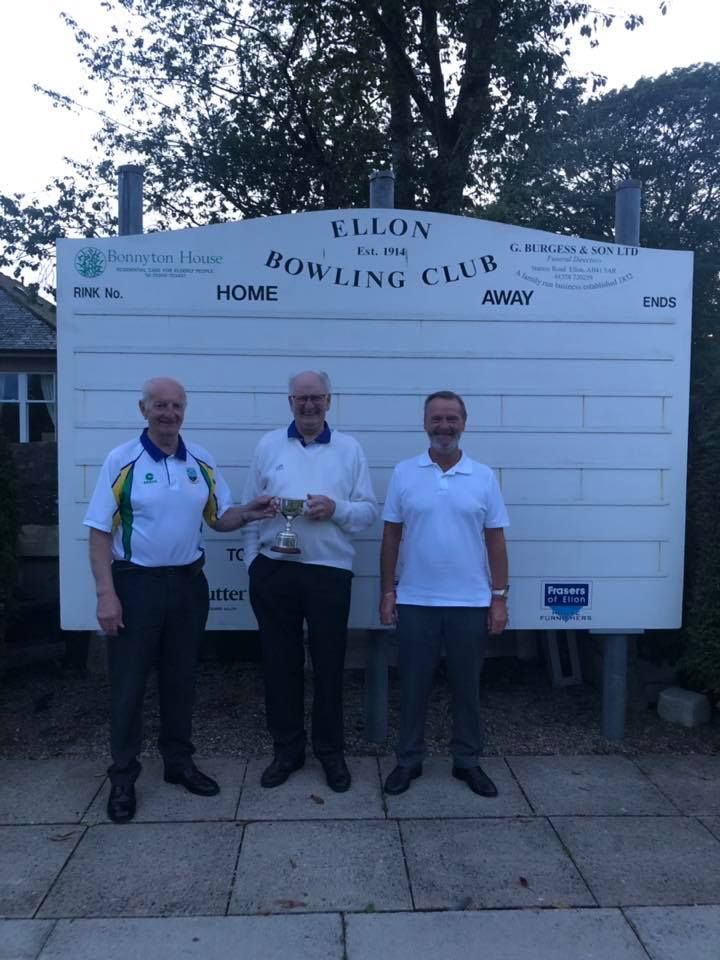 WATTIE AND SHIRLEY WIN FLOODLIT PAIRS
Phil Anderson presenting the Ellon Bowling Club Floodlit Pairs Trophy to tonight's winners Wattie Gill and Shirley Christie. Runners Up were Mike Broadley and Bob Thomson Club President on right. Congratulations to the Winners and Well done to Mike and Bob for being close Runners up.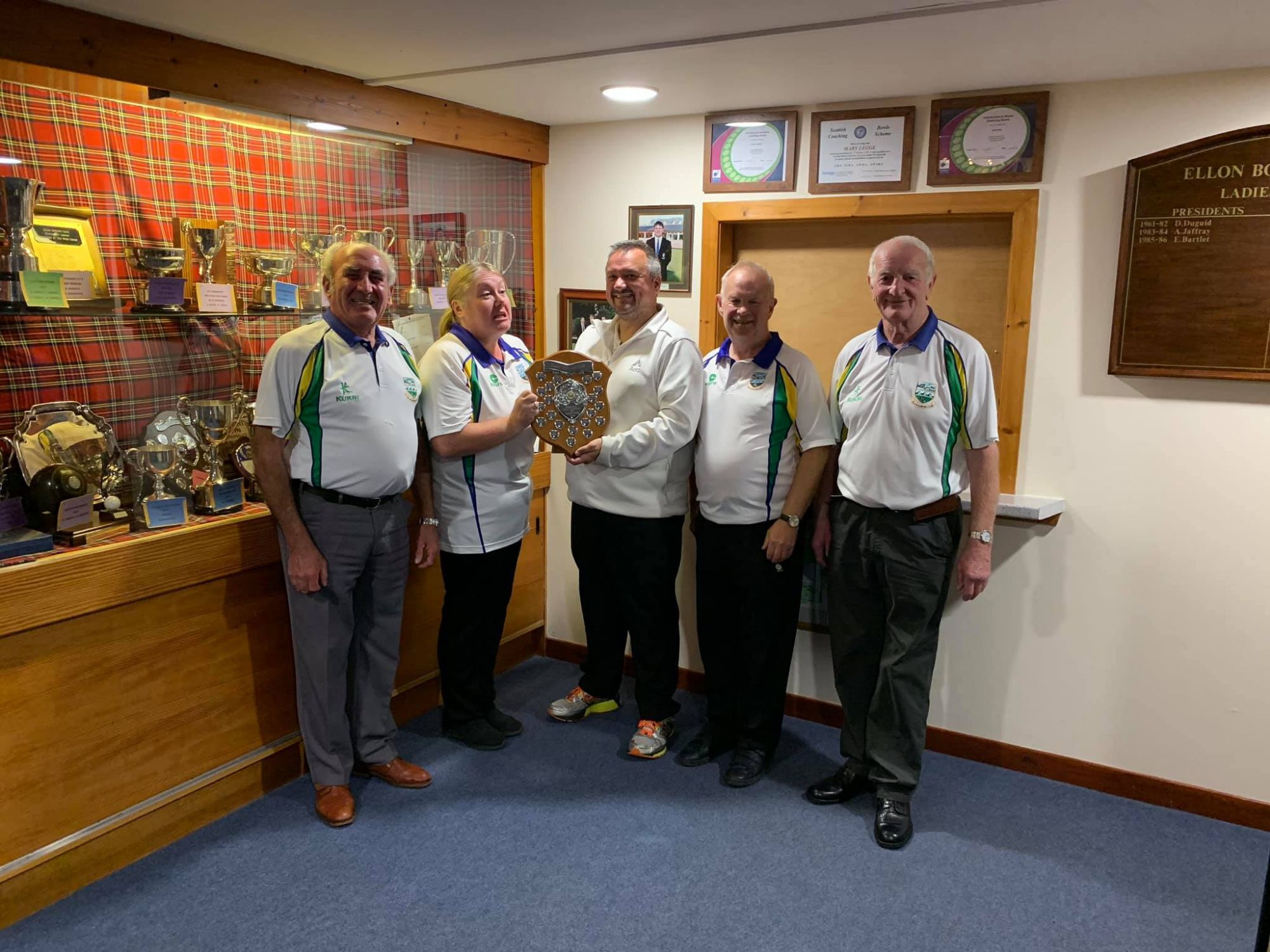 SHIRLEY CHRISTIE AND GILLIAN SINCLAIR WIN LADIES PAIRS
Shirley Christie and Gillian Sinclair have beaten Maureen Sinclair and Lorraine Milne to win the Ladies Pairs and was presented with the Ladies Pairs trophy by President Bob Thomson.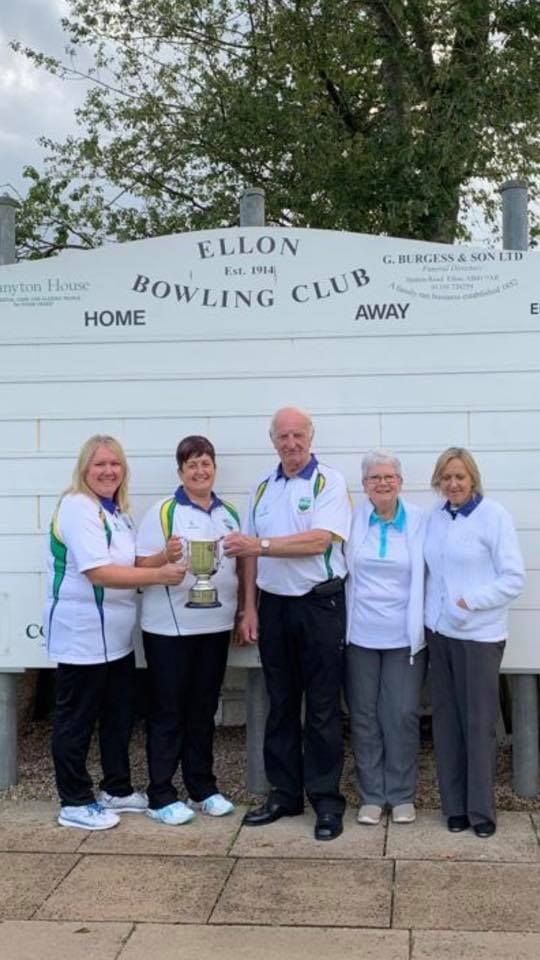 ANN SINGER AND MAUREEN SINCLAIR WIN SENIOR PAIRS
Senior Pairs Winners 2019 - Ann Singer & Maureen Sinclair. Runners Up Kate Pickard & Les Milne. Bob Thomson President presenting the trophy to Maureen and Ann. Ann came in as a substitute at the semi final stage as due to an unfortunate RTA Bob Bryce played in all rounds previously. The whole club wishes Bob a full recovery and hope to see him back when able again.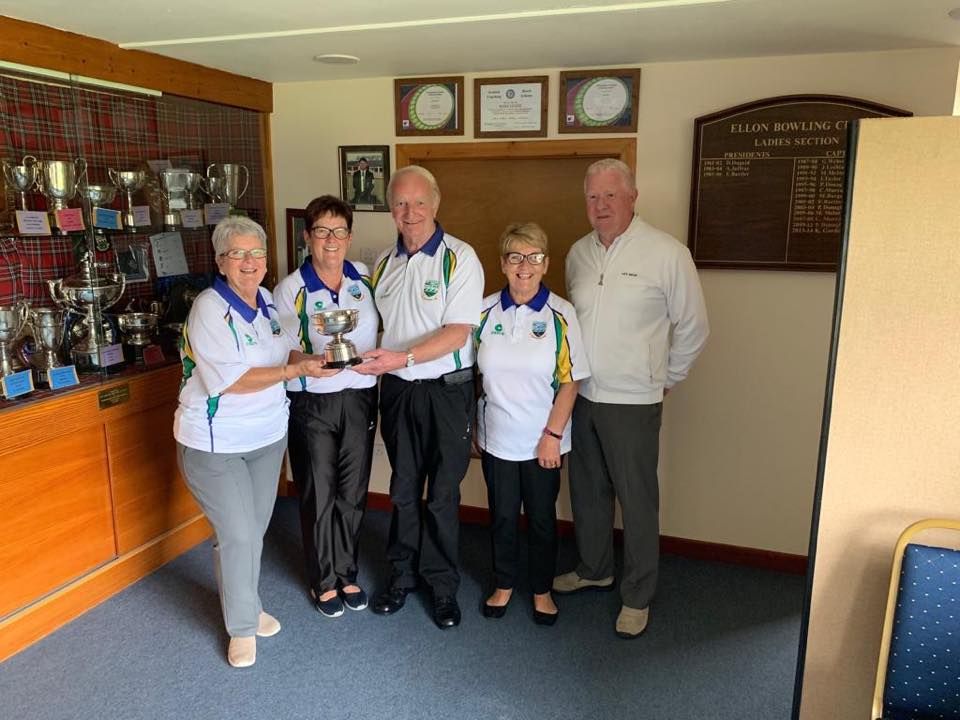 DEREK JOBSON'S TEAM WIN FLOODLIT TRIPLES
Keith Absamon, Andy Bruce and Derek Jobson have won the Floodlit Triples League with a score of 10 and +57 shots with Edwin Campbell, Bernie Roberts and Alistair Campbell finishing runners up.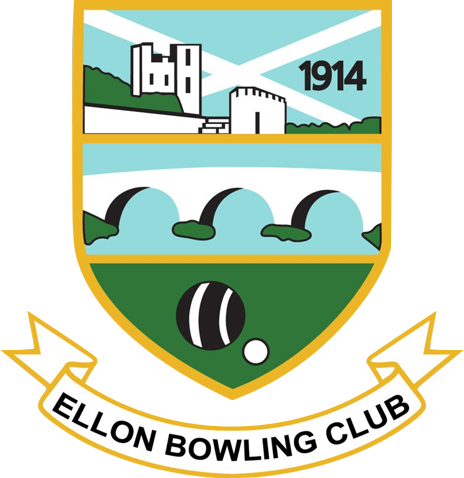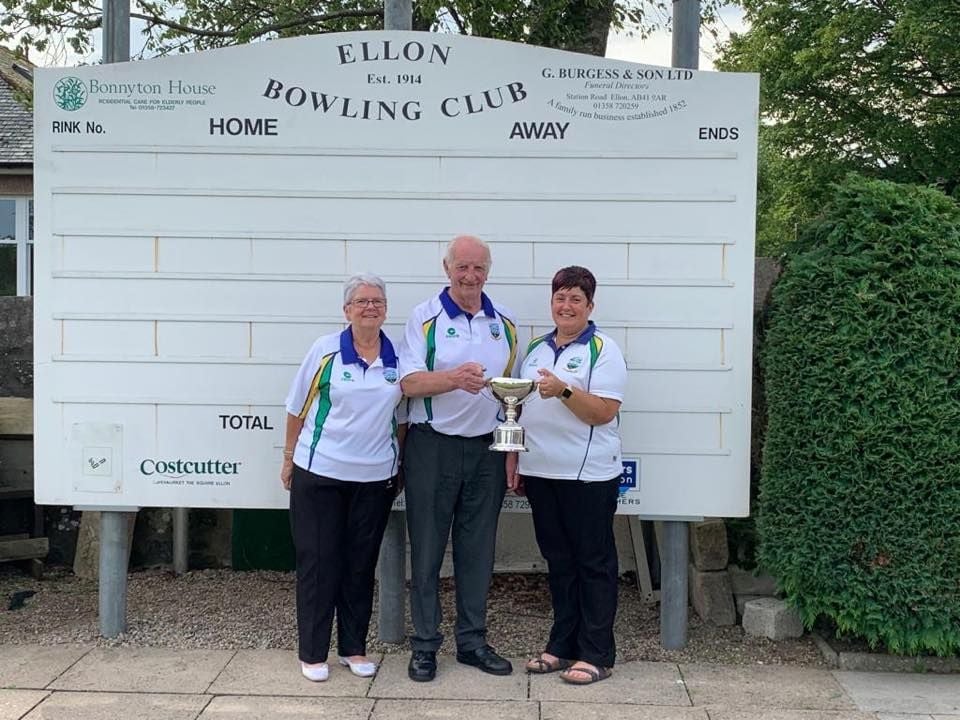 GILLIAN BEATS MUM MAUREEN IN LADIES HANDICAP FINAL
Gillian Sinclair has beaten her mum Maureen Sinclair 21-15 in the final of the Ladies handicap singles. President Bob Thomson presented Gillian with the trophy.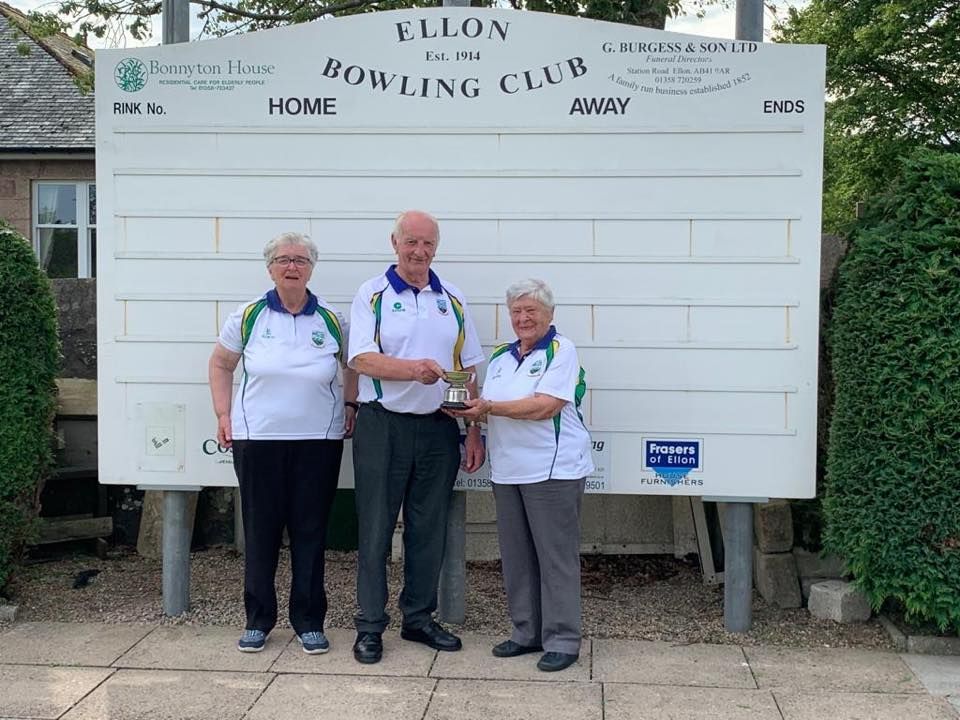 MORAG MACPHERSON BEATS MARY LEGGE IN LADIES SENIOR SINGLES FINAL
Morag Macpherson has won the Ladies Senior Singles after beating Mary Legge 21-13 in the final.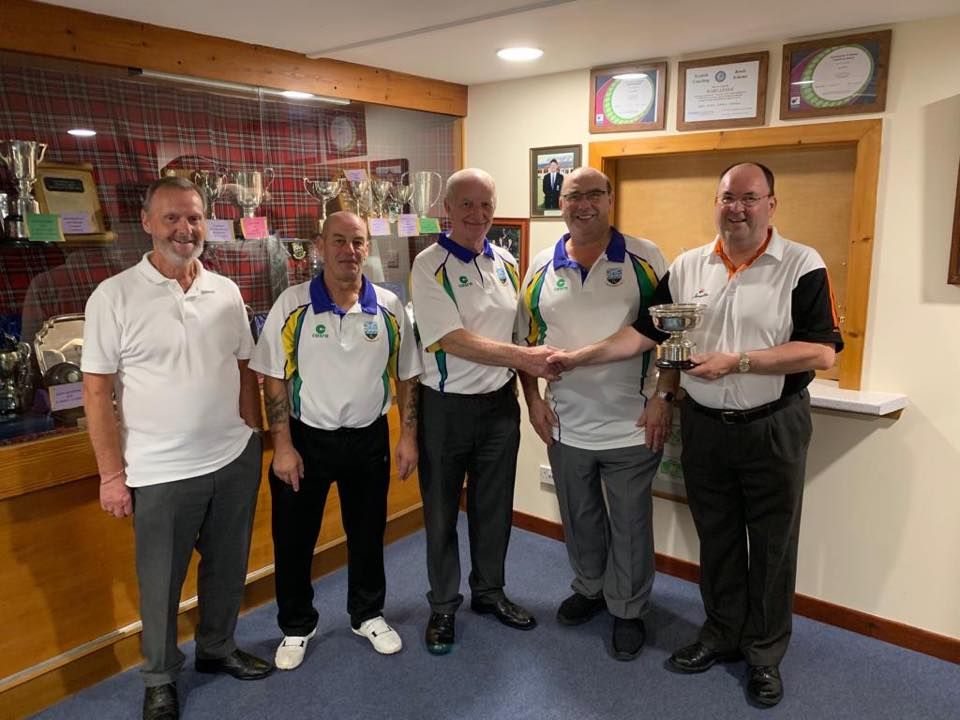 ALISTAIR SPENCE AND ALISTAIR CAMPBELL WIN GENTS PAIRS
Alistair Spence and Alistair Campbell have won the Gents Pairs beating Johnstone Riddell and Willie Christie Jnr 14-12 in the final.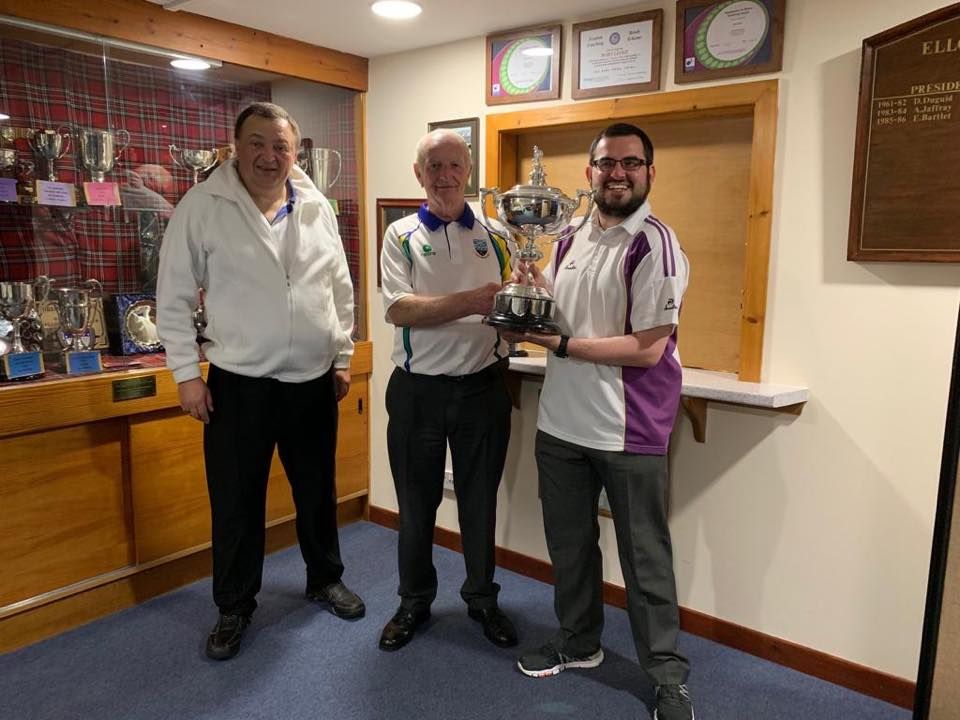 GRANT CAMPBELL WINS HANDICAP SINGLES
Grant Campbell has won the Handicap beating former singles and handicap singles winner Michael Stephen in the final 21-18.
ANN SINGER AND MAUREEN SINCLAIR WIN LADIES TWO BOWL PAIRS
Ann Singer and Maureen Sinclair have won the Ladies Two Bowl Pairs after beating Mary Legge and Gillian Sinclair in the final.
JOHNSTONE RIDDELL WINS TWO BOWL SINGLES FINAL
Johnstone Riddell has won the two bowl singles after beating president Bob Thomson in the final. Pat Jobson also pictured presenting the trophy to Johnstone.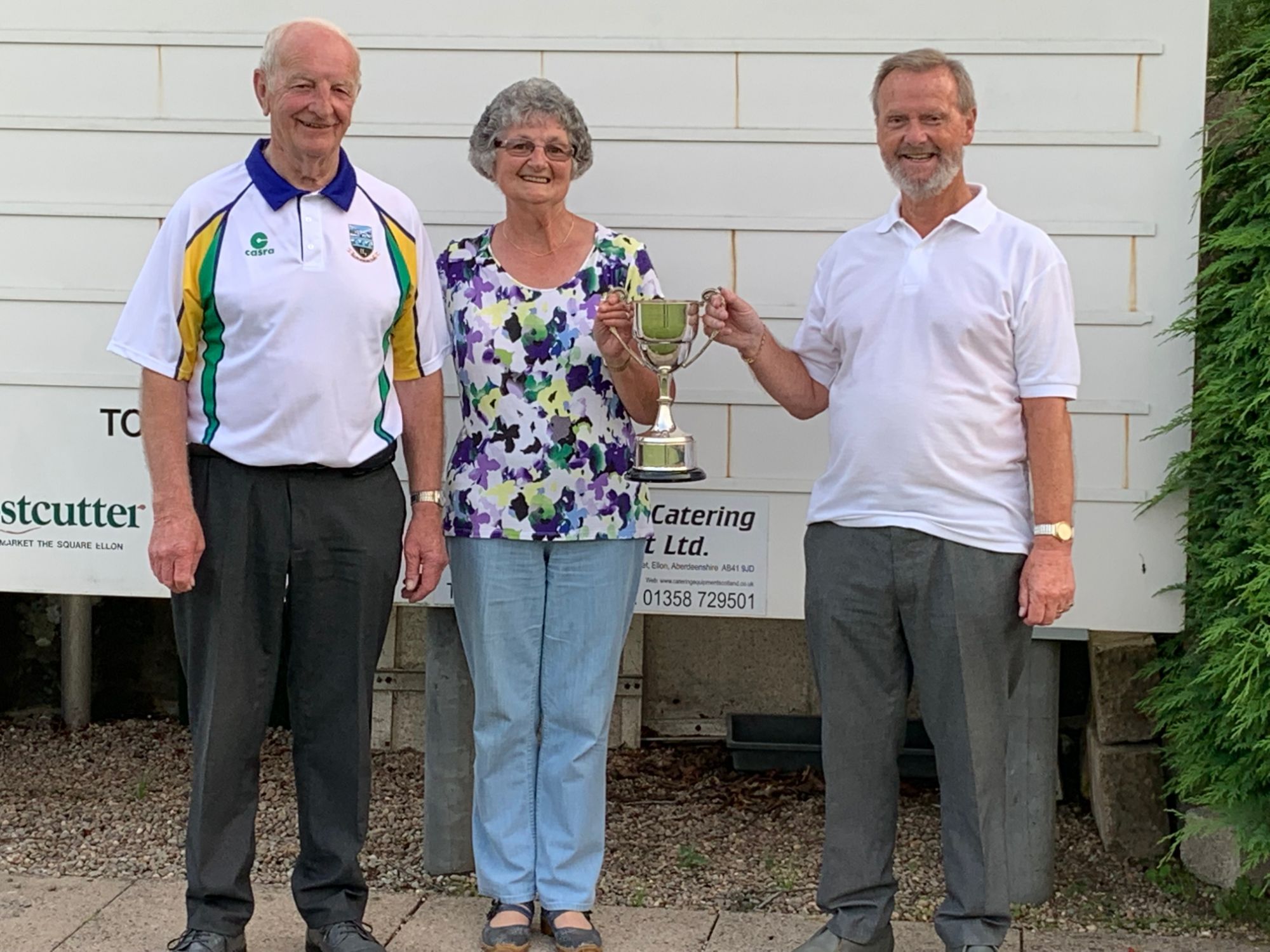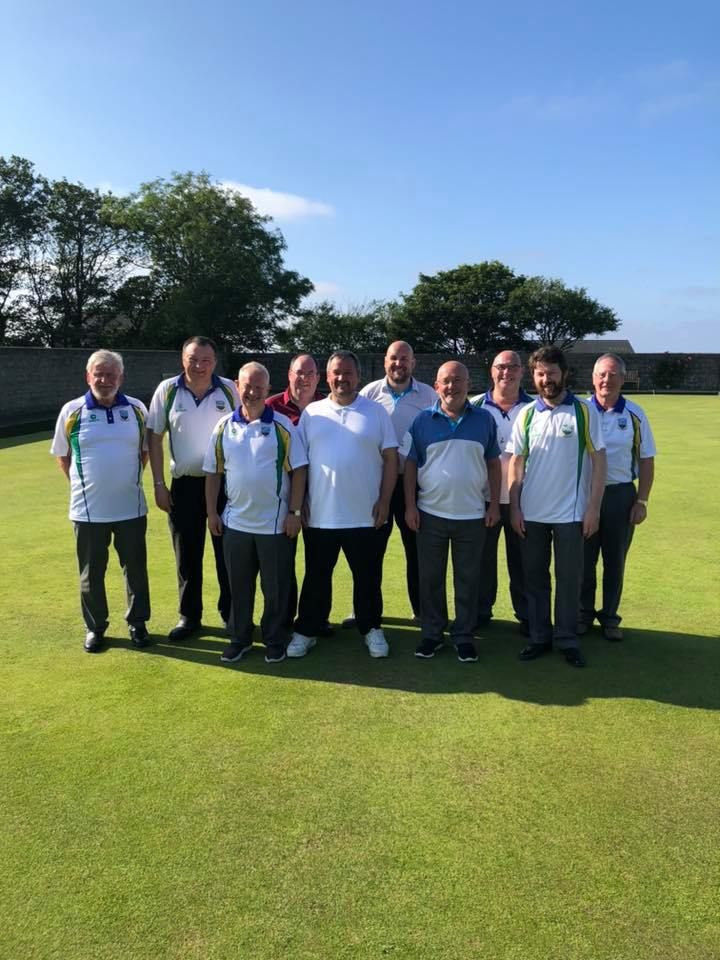 ELLON WINS BUCHAN TOP TEN FINAL
Ellon have beaten New Pitsligo 6-2 in the final of the Buchan Top Ten to be become champions and make it through to the Scottish Inter County Top Ten qualifiers.
ELLON LADIES WIN FORBES HENDRY 2019
Congratulations to the ladies who won the Forbes Hendry this afternoon at Inverurie.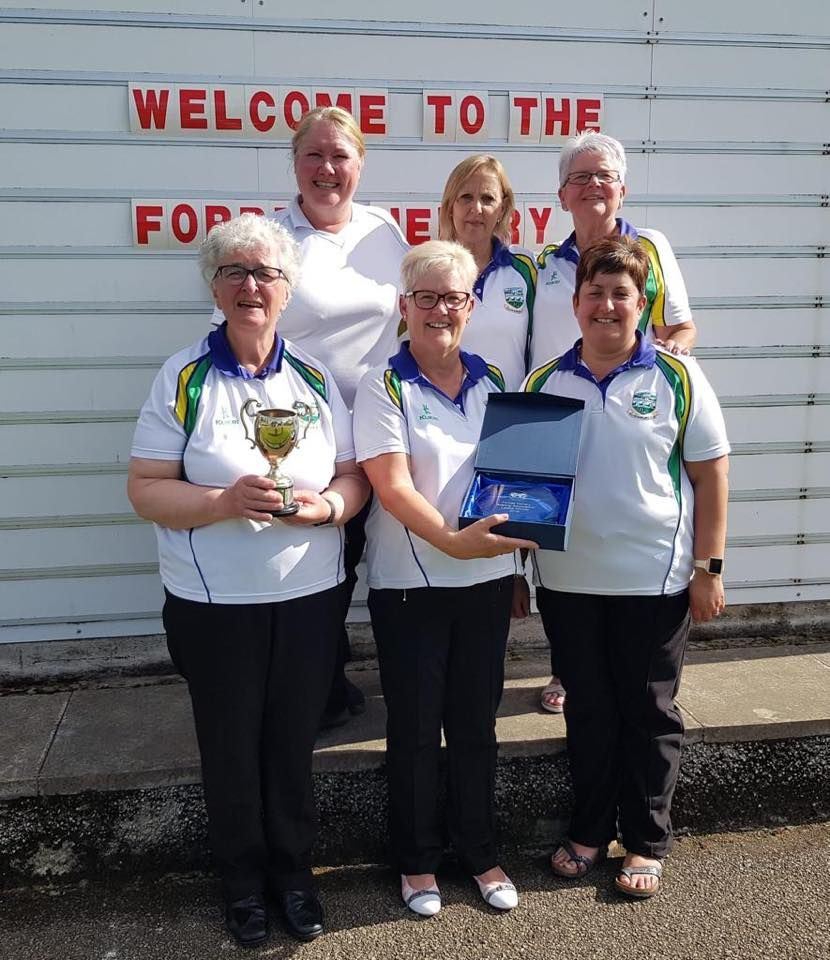 CALUM CAMPBELL AND MARY MCNEIL WINS 2-4-2 FINAL.
Calum Campbell and Mary McNeil beat Doug Fraser and Wattie Gill 10-8 in the final of the 2-4-2 competition after beating Grant Campbell and Albert Low 5-4 (all square going into last end) in the semi-final.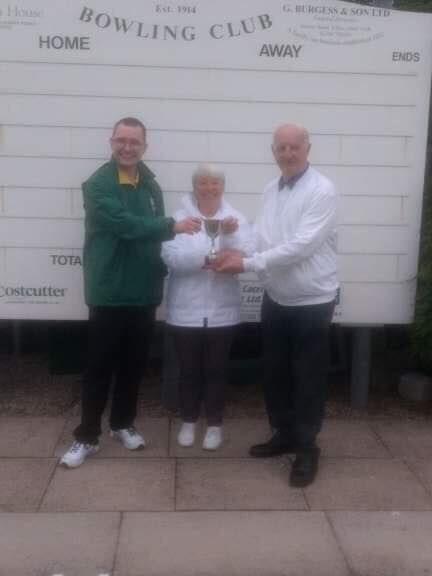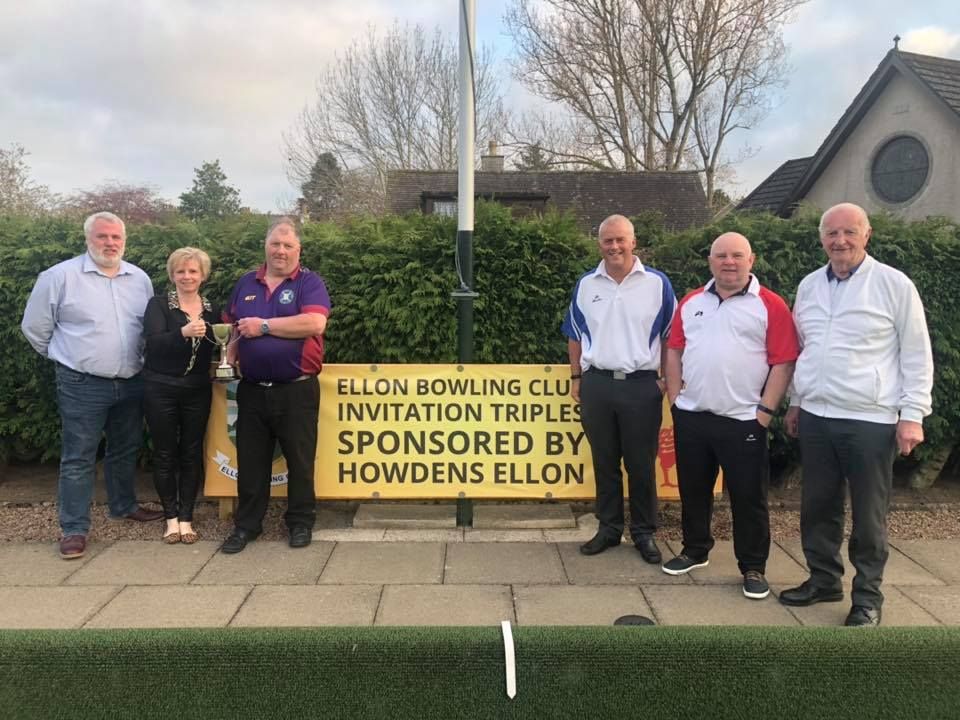 FRASERBURGH TRIO WIN ELLON INVITATIONAL TRIPLES
Congratulations to the Fraserburgh trio of Charlie Burnett, Charlie Simpson & George Gow who won the invitation triples this afternoon at the club.
Tanya & Derek Rennie from Howdens Ellon we're on hand to present the trophy alongside president Bob Thomson.
The club would like to thank Howdens for their continued support of the competition.
WILLIE CHRISTIE'S TEAM WIN CLUB FOURS
Wille Christie Jnr's team that included his dad Willie Christie Snr, D Brown and Les Milne beat Alistair Spence, Mike Gibson, Sandra Morrison and Brian Thomson in th final of the Club Fours.