MICK BROADLEY TRIO TRIUMPH
Mick Broadley's triple of Michael Stephen (Lead), Calum Campbell (Second) with Mick skipping beat Alistair Spence's trio of Ann Giles (Lead), Derek Gauld (Second) with Alistair skipping 18-8. Mick has got his second trophy this season after being part of the winning club Fours team who beat the runner up team which included Calum Campbell.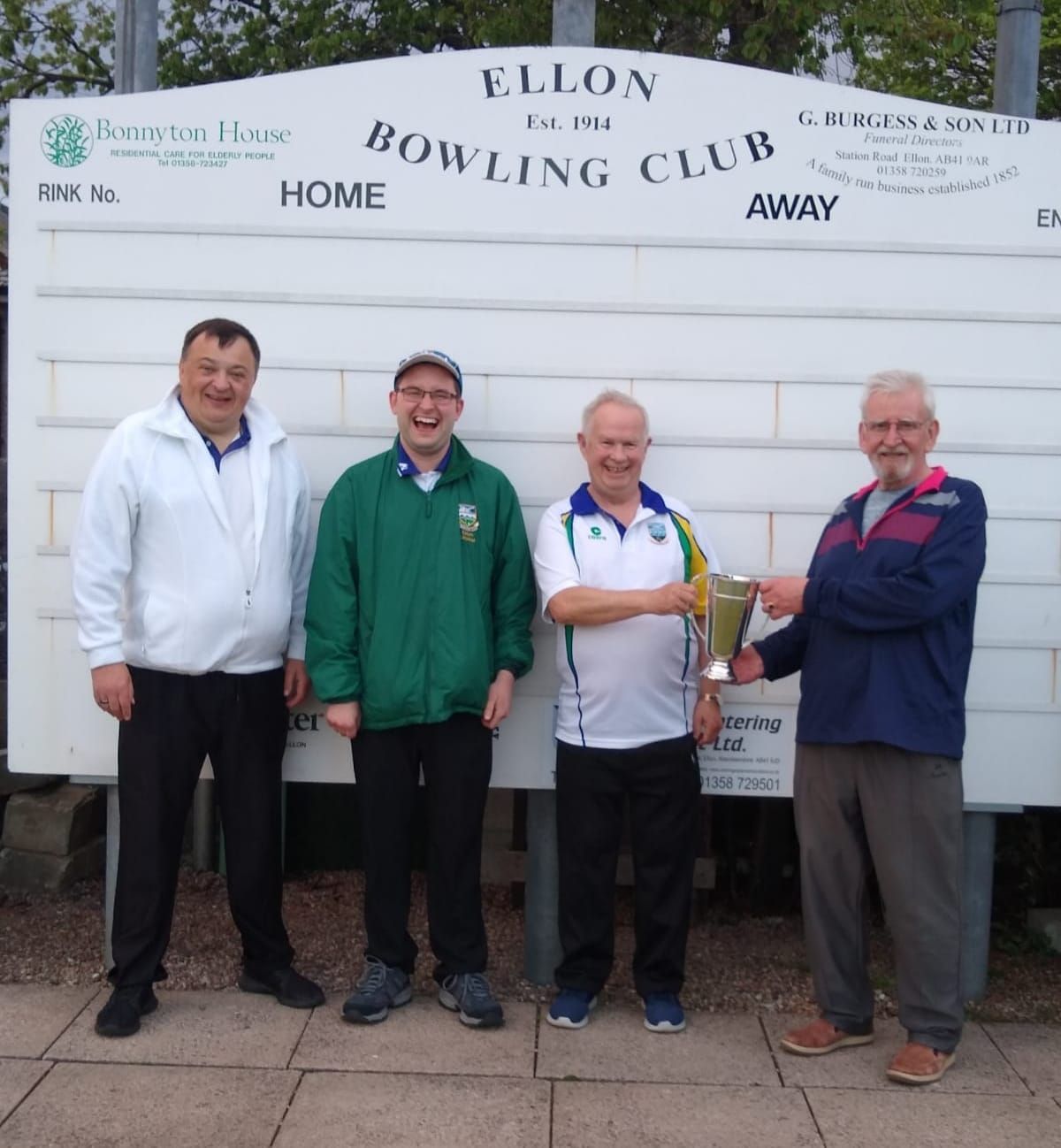 ELLON B BEAT STRICHEN IN VERY WET LEAGUE MATCH
Ellon B beat Strichen 70 - 39 in a very rainy league match yesterday (16/5/2022) and will play Peterhead B at St Mary's next Monday while Ellon A are at home against Rosehearty.
The first winners of the season who have won the Club Fours are Lorraine Milne, Keith Absalom, Phil Anderson and Mick Broadley (Skip), beating Calum Campbell, Bill Bonnor, Mary Legge and Shirley Christie (Skip) 23-7.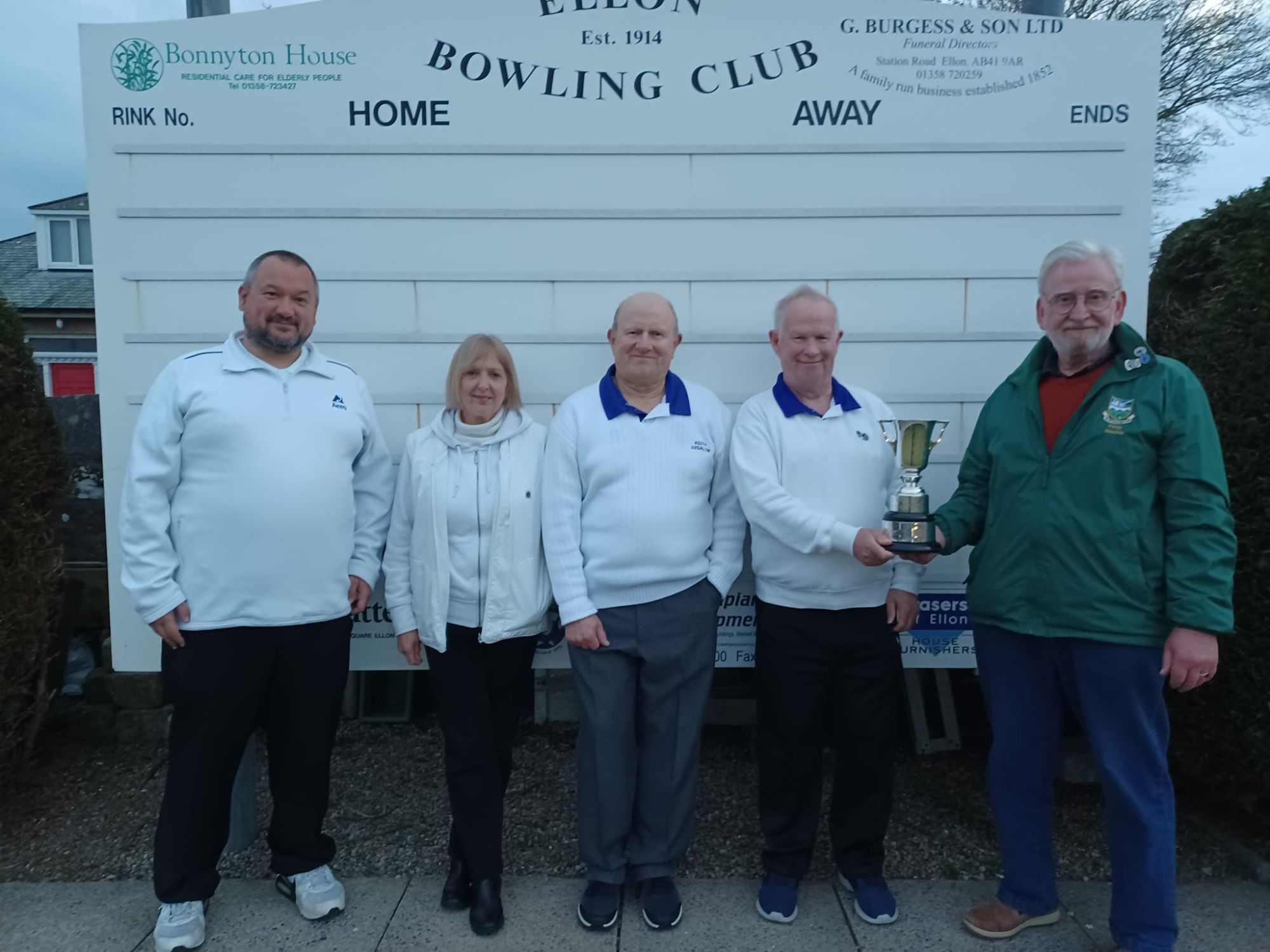 METHLICK BEAT FRASERBURGH W.E TO WIN INVITATION TRIPLES
The Methlick triple of Ian Ligertwood (Lead), Colin Christie (second) and Ian Keith (skip) beat Fraserburgh W.E 8-7 after a 7-7 tie resulted in an extra end where Methlick became the victors.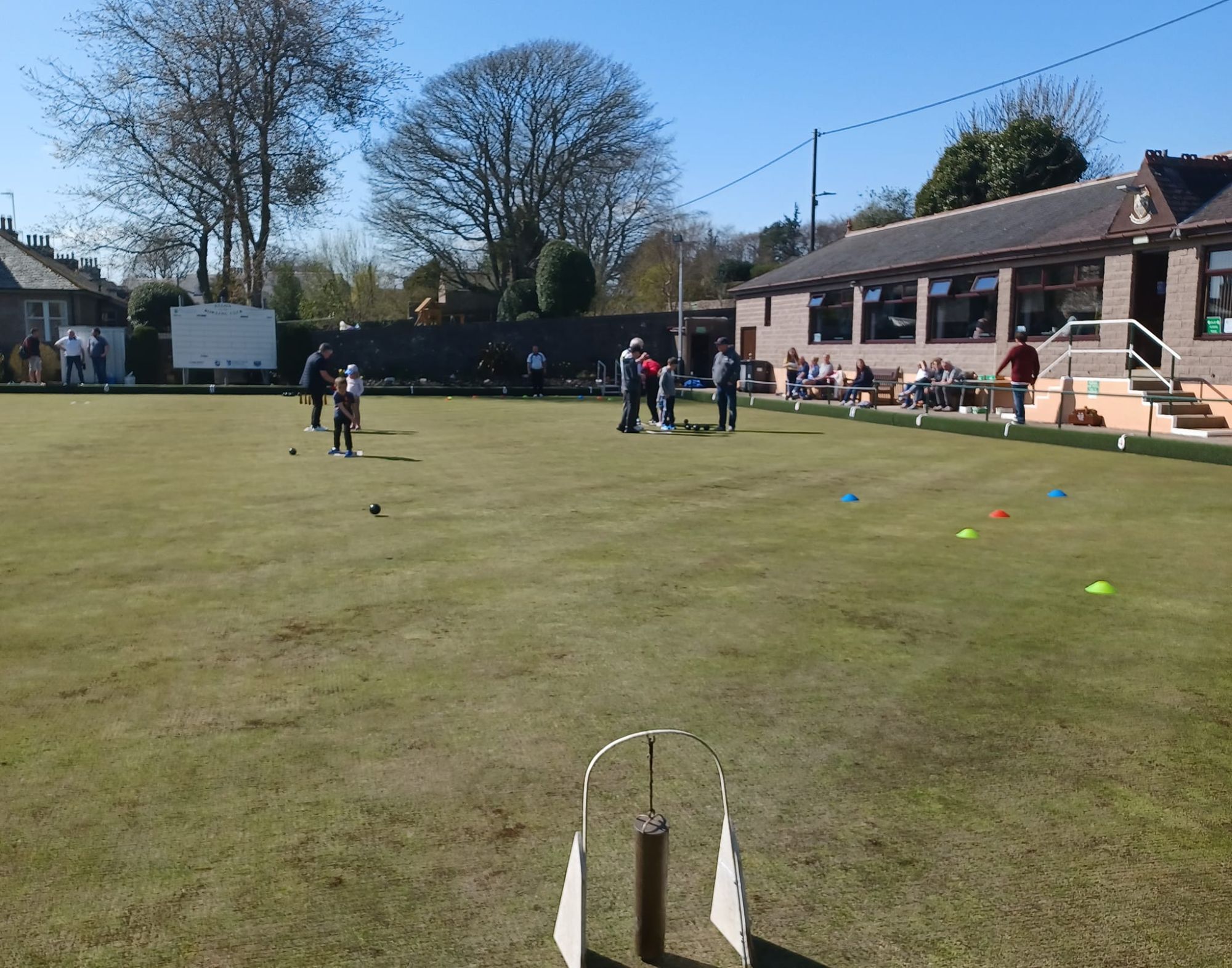 We would like to thank everyone who came along and also those who helped to make this a successful Try Bowls event. Here are some of the photos from the event. If you want to view more information please click here.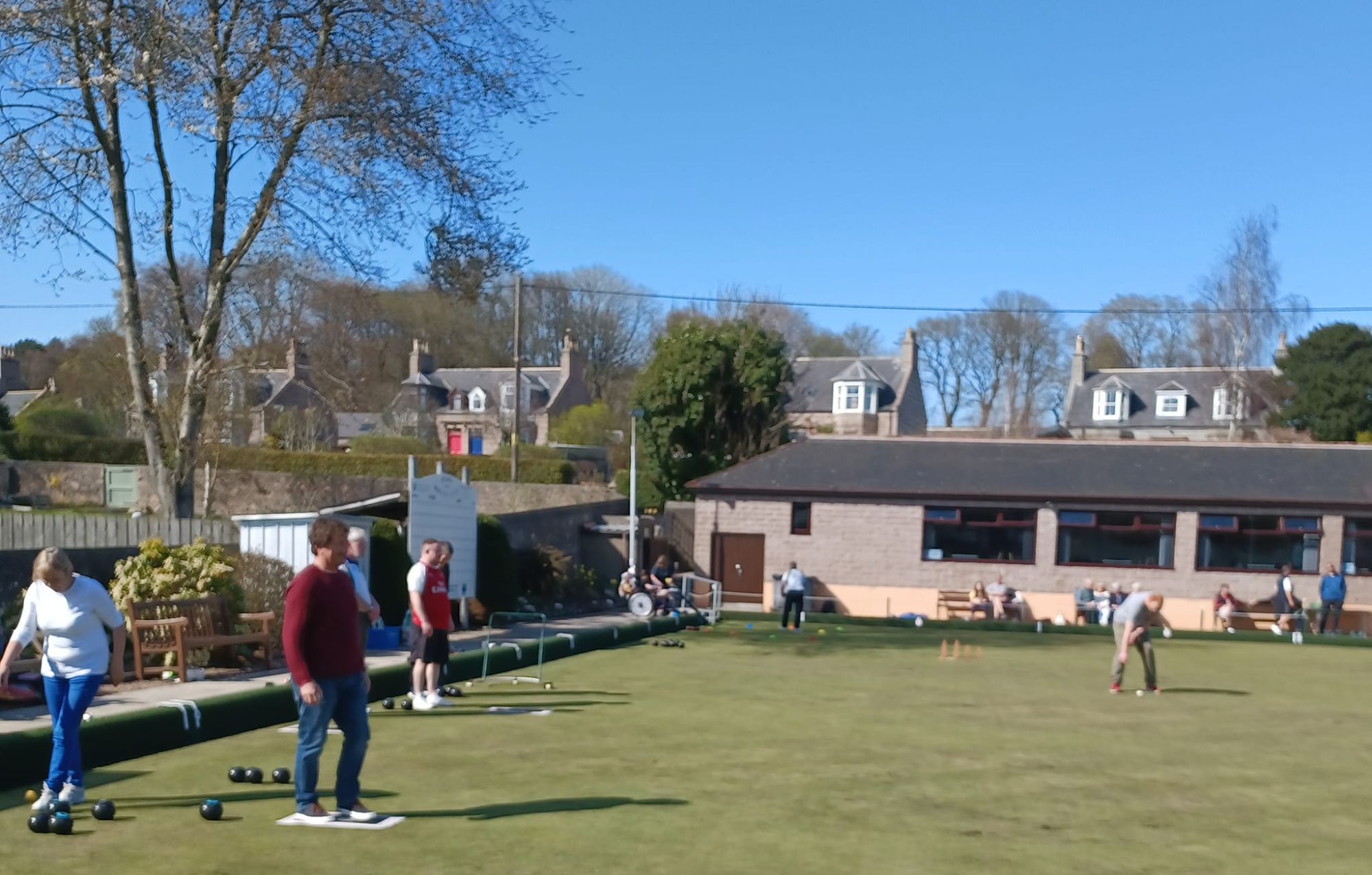 ELLON BOWLING CLUB HAS JOINED TWITTER
If you would like to access or view EBC tweets please find us on Twitter under the handle @EllonBC1914 or by clicking on the button at the bottom of this website.
ELLON BC GAINS FOUR NEW COACHES
We have 4 new coaches at Ellon Bowling Club who have successfully completed the Intro to Bowling Coach course today. Well done to Grant Campbell, Peter Mackie, Les Keith and Shirley Christie.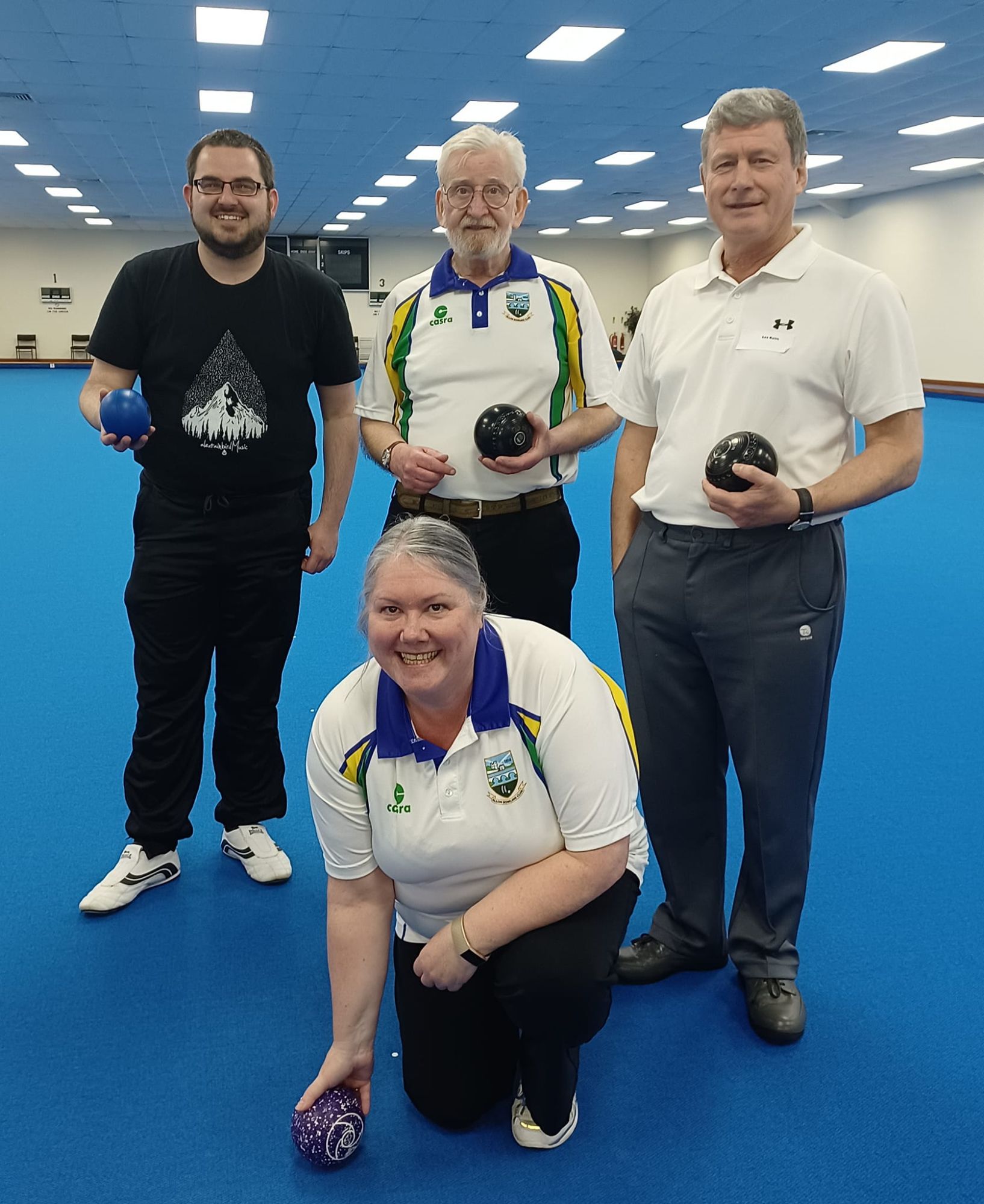 Jim Elrick has a new stock of Ellon Bowling Club bowling shirts. If anyone is interested in purchasing a shirt please contact him for details.