HOME
ELLON LADIES BEAT NEWHILLS IN CRIAGIE LADIES FINAL
Ellon ladies beat Newhills at Harlaw bowling club this afternoon.

PETER KNOLL AND BIRNIE ROBERTS WIN TWO BOWL PAIRS
Congratulations to Peter Knoll and Birnie Roberts who won the 2-bowl Pairs this afternoon noon at the club.


WILLIE AND SHIRLEY BEAT GRANT AND CAROLINE IN MIXED PAIRS FINAL
Shirley and Willie Christie won the Mixed Pairs against Caroline Milne and Grant Campbell. After a cadgy start after the game was tied at 4-4 the Christies took the lead and never looked back winning the game 20-10 despite Caroline and Grant's best efforts.


ELLEN WINS LADIES HANDICAP FINAL AGAINST FORMER SINGLES WINNER GILLIAN
Ellen Bartlet beat Gillian Sinclair 21-18 in the final of the Ladies Handicap Singles. Ellen started well and got a sizable lead over Gillian who then rallied however it was Ellen who took the spoils in a enjoyable match to watch.

PRESIDENT'S TEAM WINS ELLON SUPER 6
Congratulations to Jim Elrick and his team who won the Jock Sinclair Cup for the Ellon Super Six Competition this afternoon. Maureen Sinclair was on hand to present the prizes.Runners Up - Kittybrewster & Woodside 3rd Place - Mary Legge 4th Place - Pitmedden.The club would like to thank Phil Anderson Financial Services Ltd. for their continued sponsorship of the competition.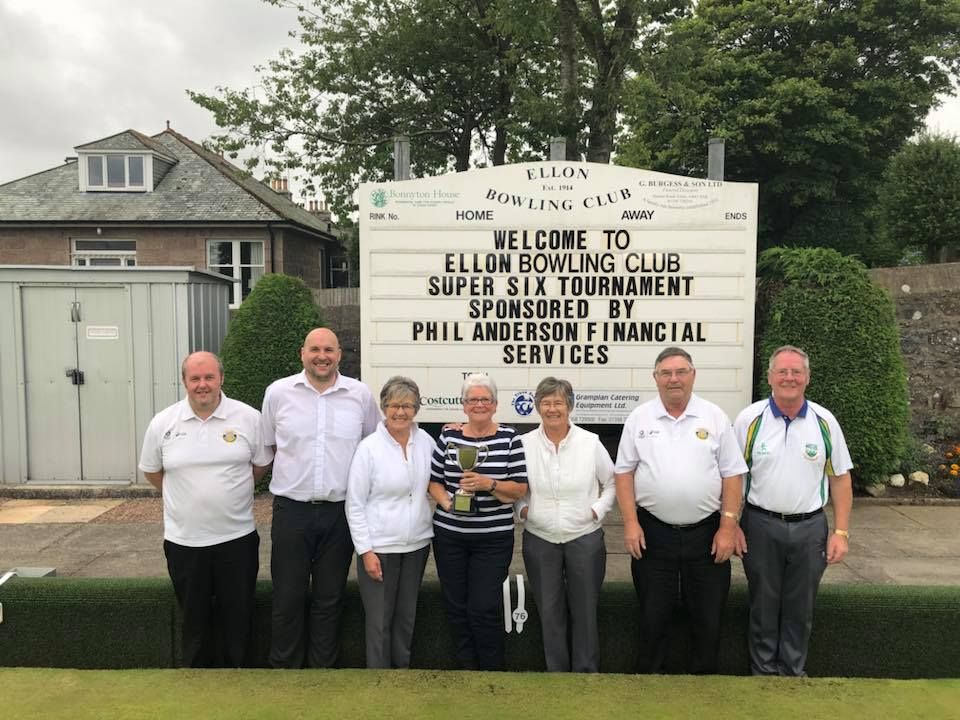 CLUB TRIPLES
Les Keith, Allan Giles and Drew Robertson has won the 2018 club triples
MICHAEL STEPHEN WIN GENTS TWO BOWL SINGLES
Congratulations to Michael Stephen who won the final of the Gents Two Bowl singles 12-5 against Alistair Campbell. Thank you to everyone one who took part and all the markers who made the Sunday session possible.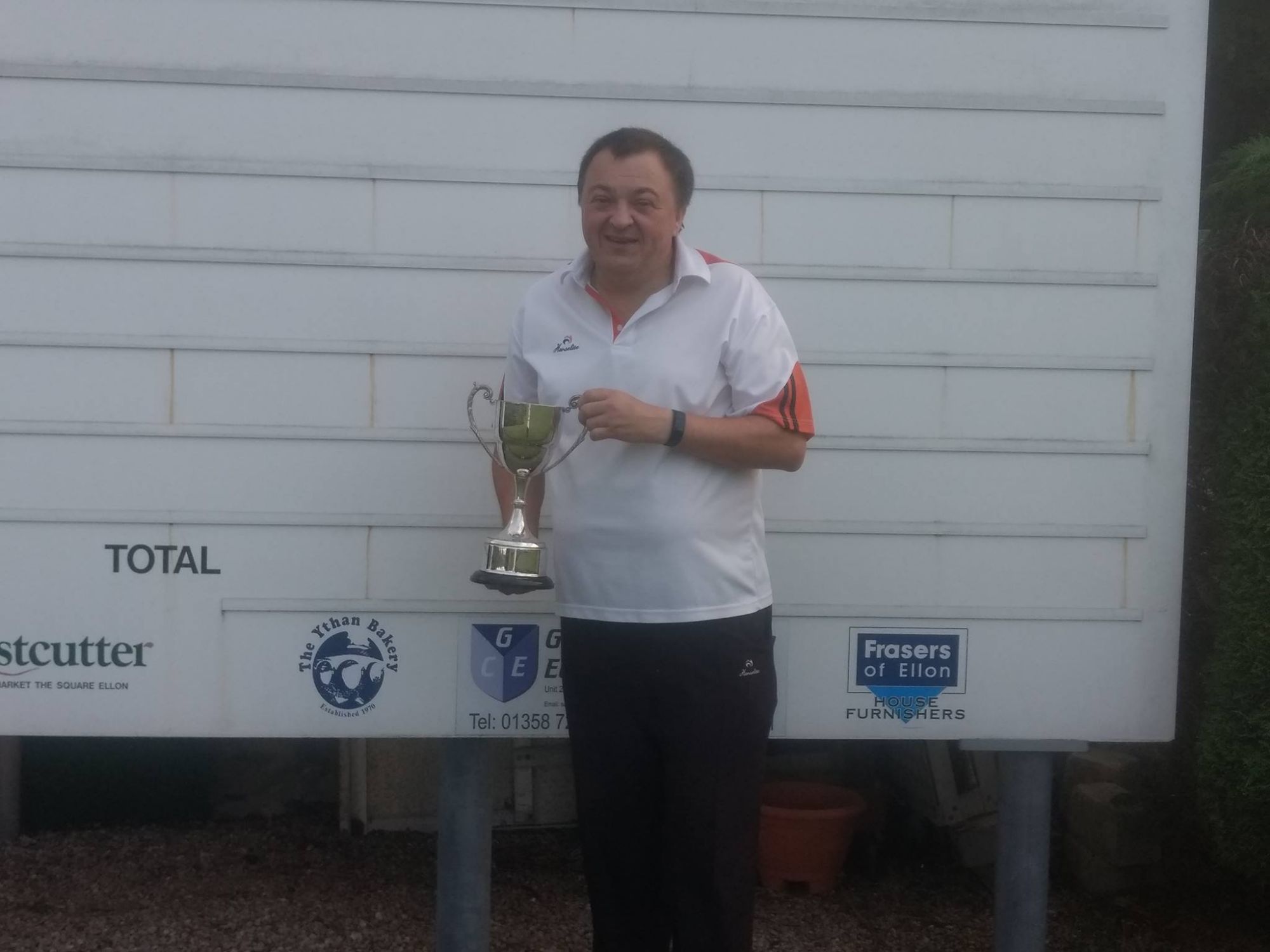 DATE FOR TARGET BOWLS 2018 CONFIRMED
This year's Target Bowls will take place on the green on Saturday 4 August. Unlike previous years, this is a competition, rather than a Fun Day/Try Bowls Day, which we had earlier this season. I hope that you will want to come down for this event, since it is a bit different from the normal bowls – using targets a bit like crazy golf – but still needs a degree of skill. Get the date into your diary. I am sure that the current weather will hold out till 4 August, so it is too good a day to miss.

LES KEITH AND DAVIE THOMSON TRIUMPH WITH FRASER PAIRS WIN
Congratulations to Les Keith and Davie Thomson who won the Fraser Pairs this afternoon (8th July 2018). The winners pictured from left: Les Keith and Davie Thomson.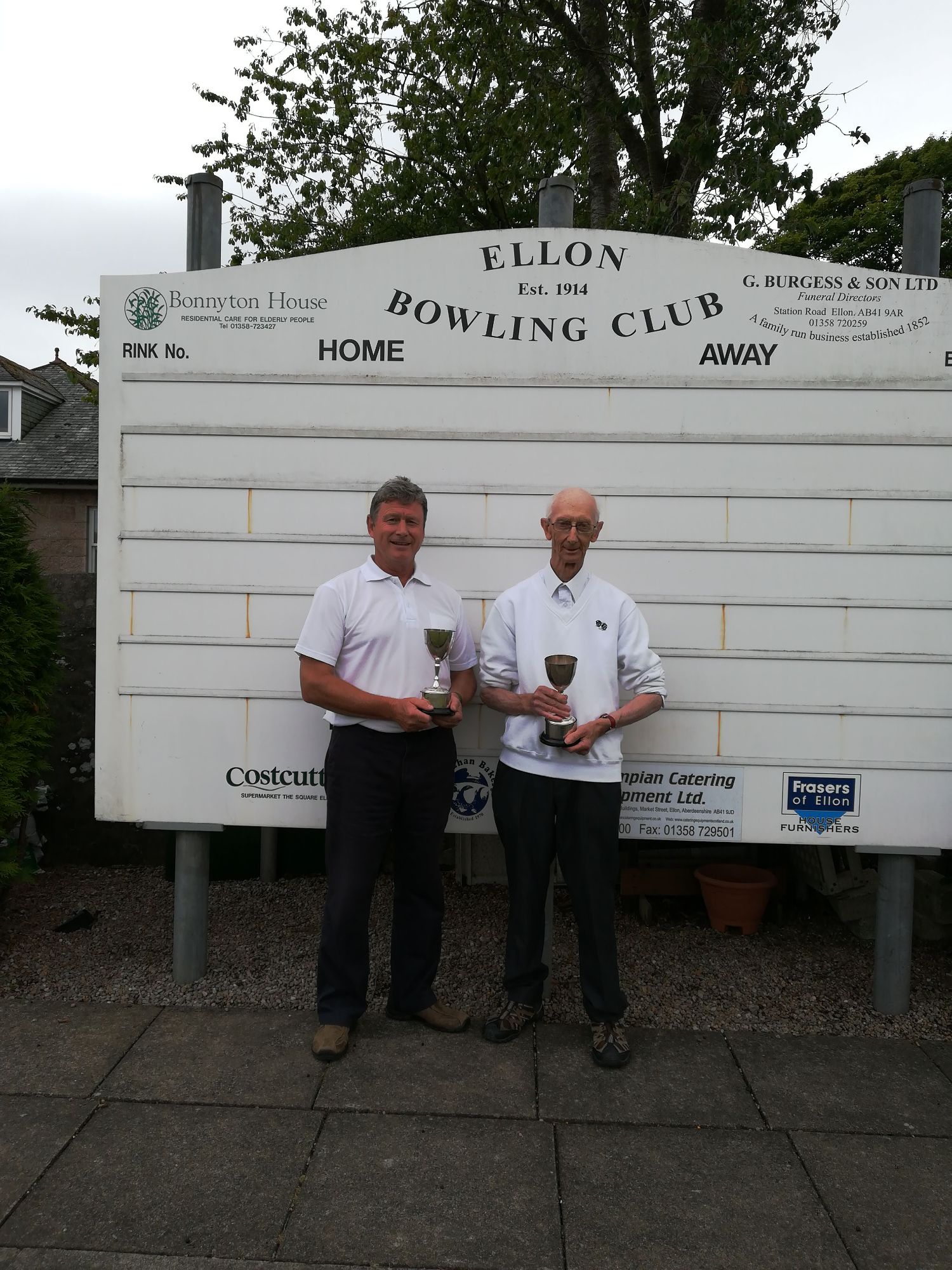 ELLON A WINS BUCHAN LEAGUE 1 FOR THIRD CONSECUTIVE YEAR
Congratations to Ellon A team who have once again on the Buchan League 1 in a final shoot out match against Cruden Bay beating them by a fantastic 71-51. Well done guys here's hoping you will defend your title next year.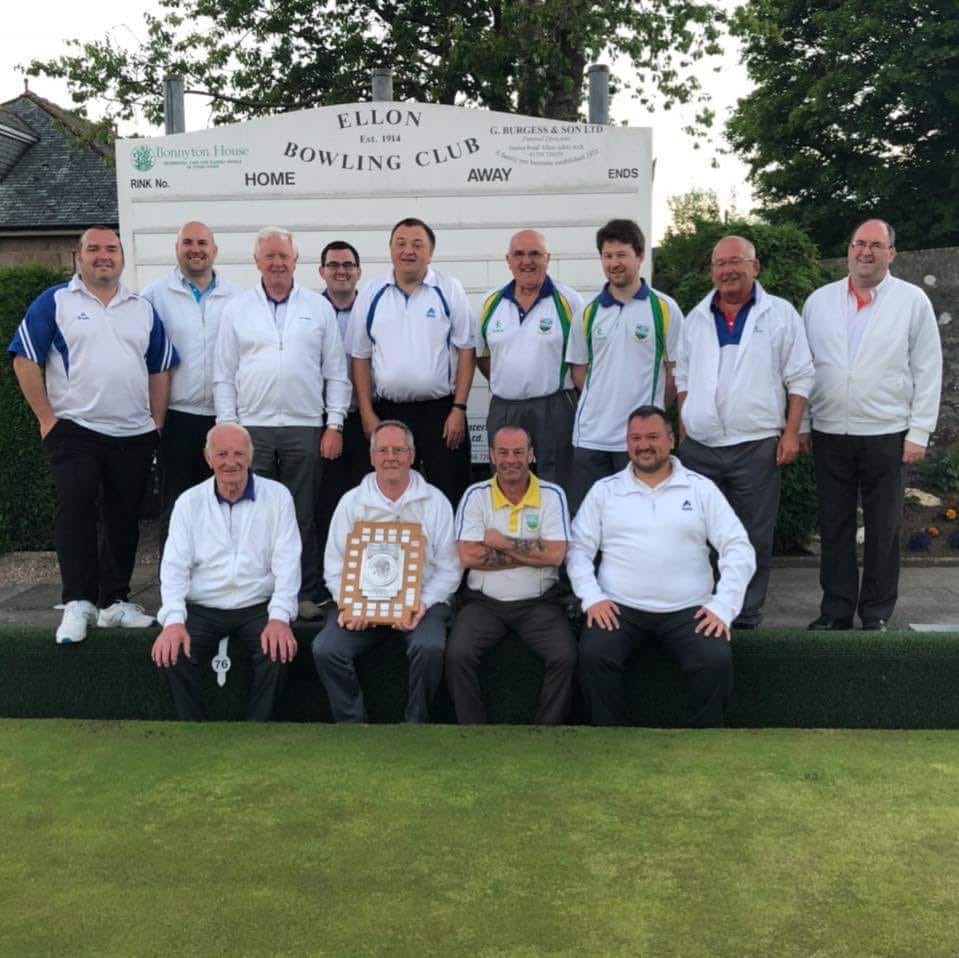 The winners of Buchan League 1 2018 Ellon A From Left: Lee Thomson, Craig Dinnes, Les Milne, Grant Campbell, Michael Stephen, Mike Gibson, Derek Jobson, Gary Simpson, Alistair Campbell, Bob Thomson, Jim Elrick (President), Willie Christie Jnr & Phil Anderson.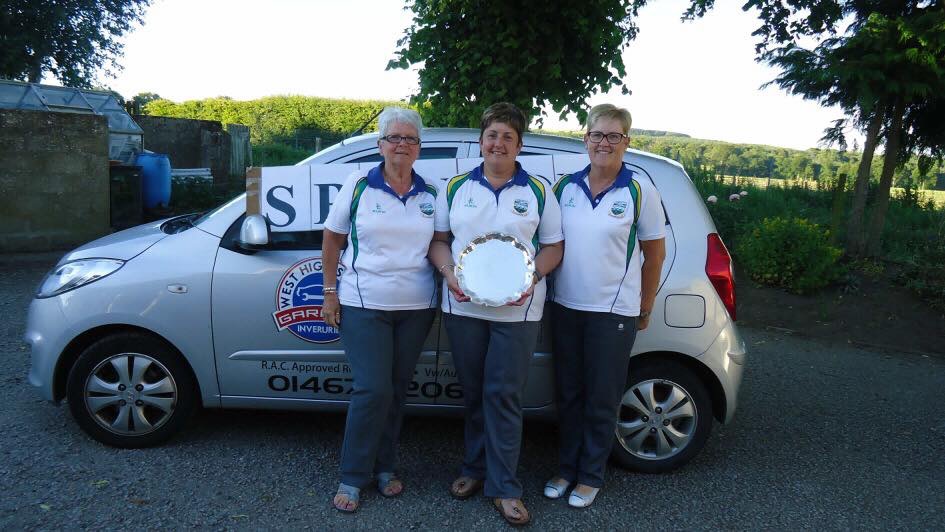 ELLON LADIES WIN INVERURIE TRIPLES FOR THIRD CONSECUTIVE YEAR.
Well done to Maureen Sinclair, Gillian Sinclair and Ann Singer who won the Inverurie Invitation Triples for the third year in a row at the weekend. Great stuff ladies!
GDPR PRIVACY NOTICE
Due to European Union legislation on changes to personal data, there will be a letter posted to all members asking for your consent on us continuing to use your personal details for club purposes for telephone list, photographs, emails e.g. Please see a copy of the consent form by clicking below.
BUCHAN LEAGUE
The Buchan League is in the balance. After a shaky defeat at home to the hands of New Deer, the A Team have steadied the ship with a couple of hard fought wins against Peterhead and Mintlaw, both away, with a Home win against Longside on 11 June. The B Team registered their first win in two seasons with a valiant win at home to Strichen and followed that up on 11 June with an excellent away win against Peterhead B.
GRAMPIAN LADIES
The Grampian Ladies League has been a bit of a challenge this year with the team losing at Home when the games were played at Ellon, they got a walkover when due to play at Longside and they played at Mintlaw in their third game and they came up short again.
GENTS FORBES HENDRY
The Forbes Hendry Men's competition came to an abrupt halt against a very good Huntly Team although the ladies are still battling away and now play Kintore Bowling Club.

GENTS CROWMALLIE
Gents Crowmallie Ellon v Tarves Results: Ellon 14-16 Tarves At Tarves 12-21. Ellon win. Well done lads
BOWLS SCOTLAND DISTRICT 3
Mike Stephen and Mary Legge won 19-4 against Methlick, Phil Anderson and Gillian Sinclair lost 26-14 against Kintore.
The Scottish play-offs have been disappointing as all teams exiting by the quarter final stage with the men, but the ladies did get a team to play in the Finals with Gillian Sinclair, Kathleen Gordon and Ann Singer losing out to the host club Balgownie in the Ladies Triples Final. The mixed pair of Mary Legge and Mike Stephen are Club's last hope in having someone represent the club in Ayr this year as they are through to the semi-final stage and play Kintore pair Liz and Ron Booth, who got the better of Club's other pair Gillian Sinclair and Phil Anderson in the quarter finals.
BUCHAN LEAGUE TEAM SELECTIONS
The team selection for the Buchan League matches on Monday 11th June 2018 have now been confirmed and can be viewed on our Buchan League page.
BOWLS SCOTLAND DISTRICT 3 RESULTS
Gents over 55 Fours: Newhills C (B Nicol) 18 Ellon (J Elrick) 4
Gents Fours Quarter Finals: Ellon (M Stephen) 7 Kemnay (K Milne) 20

BUCHAN LADIES PAIRS FINAL
Congratulations to Sandra Morrison and Shirley Christie on winning Buchan Ladies Pairs Final 19-18 after an extra end at Peterhead. Pictured from left: Sandra Morrison and Shirley Christie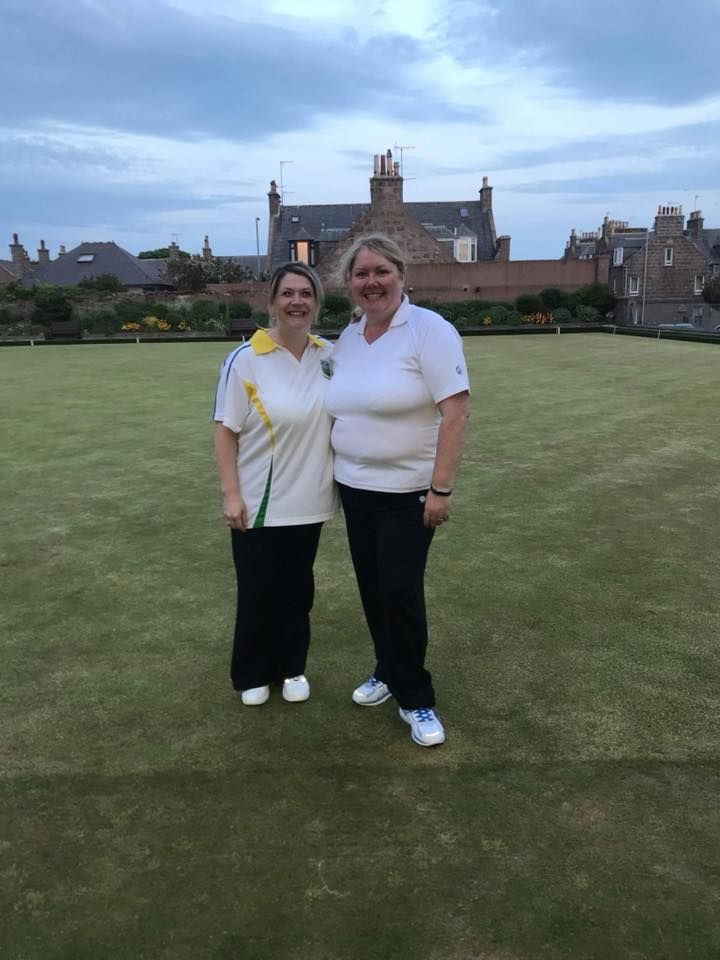 ANDREW HAMILTON RESULTS WEEK 4:
A&K 100-127 Bon Accord
Angus 155-97 Dundee
Buchan 112-106 Perthshire
Highland 123-115 Northern Counties
The green team have been hard at work this morning. The playing surface this season has been getting good reviews with many saying the club has the best green in the Buchan County. This is testimont to all the hard work the green team put in.

Pictured from left: Martin Emslie, Bernie Roberts, Andy Bruce and Bob Thomson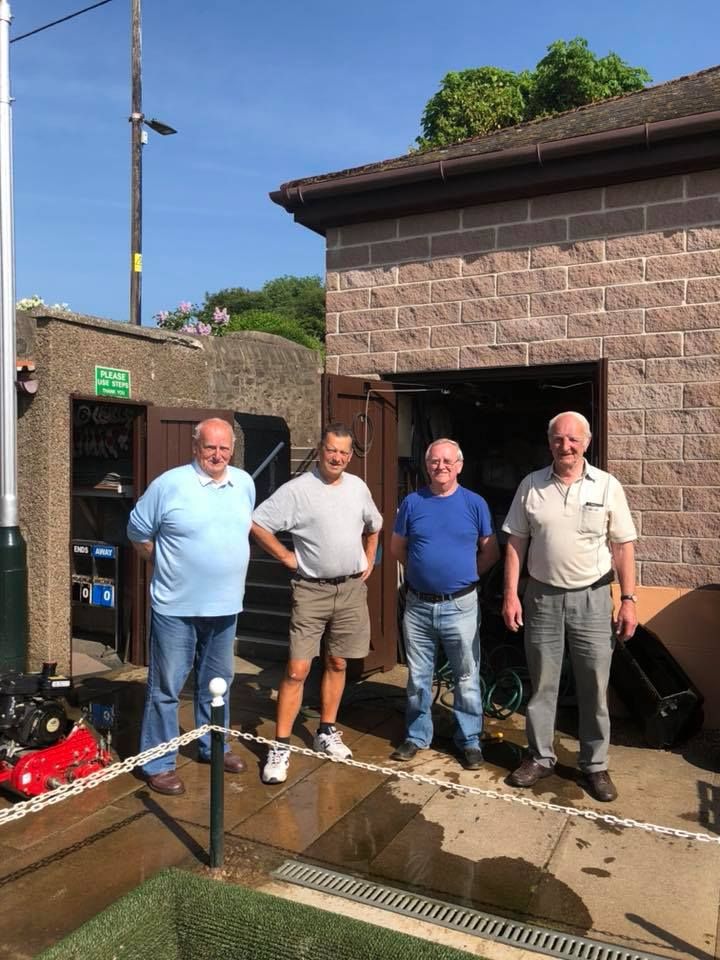 ANDREW HAMILTON
The latest Andrew Hamilton results can be viewed on this website by clicking on our Andrew Hamilton page.
ELLON RESOURCE CENTRE CONVERSATION CAFE
Ellon Bowling Club is proud to support the local community by allowing the Resource Centre to hold their Pop Up Conversation Café in the Clubhouse on the last Thursday morning of each month. Coffee, tea and home-bakes will be on offer at each session and this venture will begin in its new "home" from this coming Thursday, 29 March, from 10 am till 12 pm. The Conversation Café is a non-profit making concern and we as a Club, have decided to support this community project by offering them the use of our clubhouse, since the café will give young people an opportunity to develop basic catering skills and integrate with the public . Why not pop on down this Thursday and get yourself a fly cup?If you can't make it, please spread the word, since the café is open to everyone and the busier it is, the better. The café previously worked out of the Resource Centre, so hopefully, by word of mouth, the news will spread that it is now based in the Bowling Club.Who knows, if you turn up on Thursday, with it being the first day in the Bowling Club, you might even get your picture in the local press. How could you miss your chance for a moment of fame?
GREEN SMOKING POLICY
At the 2018 AGM A motion was passed to ban smoking including vaping on the bowling green. people wishing to smoke will have to leave the green to smoke.
Site last updated on Saturday 18th August 2018