HOME
TRY BOWLS DAY
As part of Bowls Scotland's campaign to get more people bowling we will be holding a Try Bowls day on Saturday 26th May 2018 from 1pm - 4pm. All equipment, guidance and encouragement freely provided and wither you are new or have played before it is a great opportunity to brush up on your skills. Teas and Coffees will also be provided. Ellon Fire Station will also be holding their open day at the same time so feel free to visit both events and support the community.
BUCHAN LEAGUE RESULTS
Ellon A won their third game against Mintlaw 61-46 away from home, winning their second match of the season after losing at home 55-72 against New Deer last week. Meanwhile Ellon B also won this week 66-51 at home against Strichen.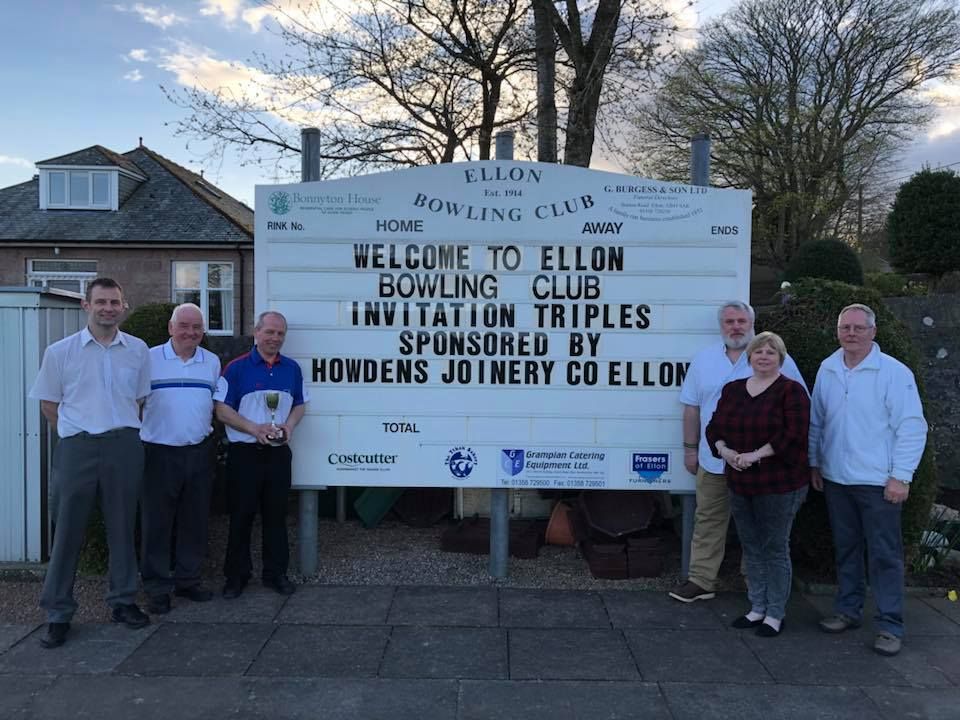 ELLON INVITATIONAL ONE DAY TRIPLES 2018
The invitation triples was won this afternoon by Michael Michie, Andy Michie and Neil Mundie (New Pitsligo). The club would like to thanks Howdens Joinery for their generous sponsorship and to everyone who took part in the competition.

CLUB RINKS 2018
The final of the Club Rinks took place last night (Friday 27th April 2018) in which Jim Elrick's team which also included Gary Simpson, Steve Watt and Willie Christie went up against Alistair Campbell's team which included Andy Bruce, Calum Campbell and Shirley Christie with Alistair Campbell's squad becoming the victors.
Pictured from left: Alistair Campbell (SKIP), Shirley Christie, Andy Bruce and Calum Campbell

CLUB COMPETITIONS 2018
The draws for the main club competitions can be viewed by viewing the relevant pages in our club competitions section.
OPENING OF THE GREEN 2018
Ellon Bowling Club would like to thank everyone who attended our opening of the green for the 2018 bowling season. We couldn't get a better day for it concerning the weather and the turn out which was around 50 people with 40 participating in the annual challenge match. Before the match began Yvonne Elrick threw the first jack and bowl to officially open for the new season. Good luck to everyone in their matches and hope you all have a good season.

BOWLS SCOTLAND LADIES FIXTURES 2018
The ladies national fixtures are now available to view on our Bowls Scotland Ladies page.
BUCHAN LEAGUE FIXTURES 2018
The fixtures for the Buchan Bowling Association league matches are now available to view on our Buchan league page.
ELLON RESOURCE CENTRE CONVERSATION CAFE
Ellon Bowling Club is proud to support the local community by allowing the Resource Centre to hold their Pop Up Conversation Café in the Clubhouse on the last Thursday morning of each month. Coffee, tea and home-bakes will be on offer at each session and this venture will begin in its new "home" from this coming Thursday, 29 March, from 10 am till 12 pm. The Conversation Café is a non-profit making concern and we as a Club, have decided to support this community project by offering them the use of our clubhouse, since the café will give young people an opportunity to develop basic catering skills and integrate with the public . Why not pop on down this Thursday and get yourself a fly cup?If you can't make it, please spread the word, since the café is open to everyone and the busier it is, the better. The café previously worked out of the Resource Centre, so hopefully, by word of mouth, the news will spread that it is now based in the Bowling Club.Who knows, if you turn up on Thursday, with it being the first day in the Bowling Club, you might even get your picture in the local press. How could you miss your chance for a moment of fame?
CLUB SUBSCRIPTIONS 2018
Derek Jobson and Allan Giles will collect Subscriptions on Thursday 12th and Friday 13th April from 7pm til 8:30pm
GREEN SMOKING POLICY
At the 2018 AGM A motion was passed to ban smoking including vaping on the bowling green. people wishing to smoke will have to leave the green to smoke.
Site last updated on Tuesday 22nd May 2018