HOME
MAUREEN SINCLAIR BEATS DAUGHTER GILLIAN IN LADIES SINGLES FINAL
Maureen Sinclair has become the Ladies Championship Singles winner once again after beating daughter Gillian in the final.

WATTIE GILL AND GARY SIMPSON WIN THE GENTS PAIRS FINAL
Wattie Gill and Gary Simpson have won the Gents Pairs after beating Peter Knoll and Allan Giles in the final.

GARY SIMPSON WINS CLUB CHAMPIONSHIP SINGLES
Gary Simpson beat Lee Thomson to become the Gents Club Champion 2018.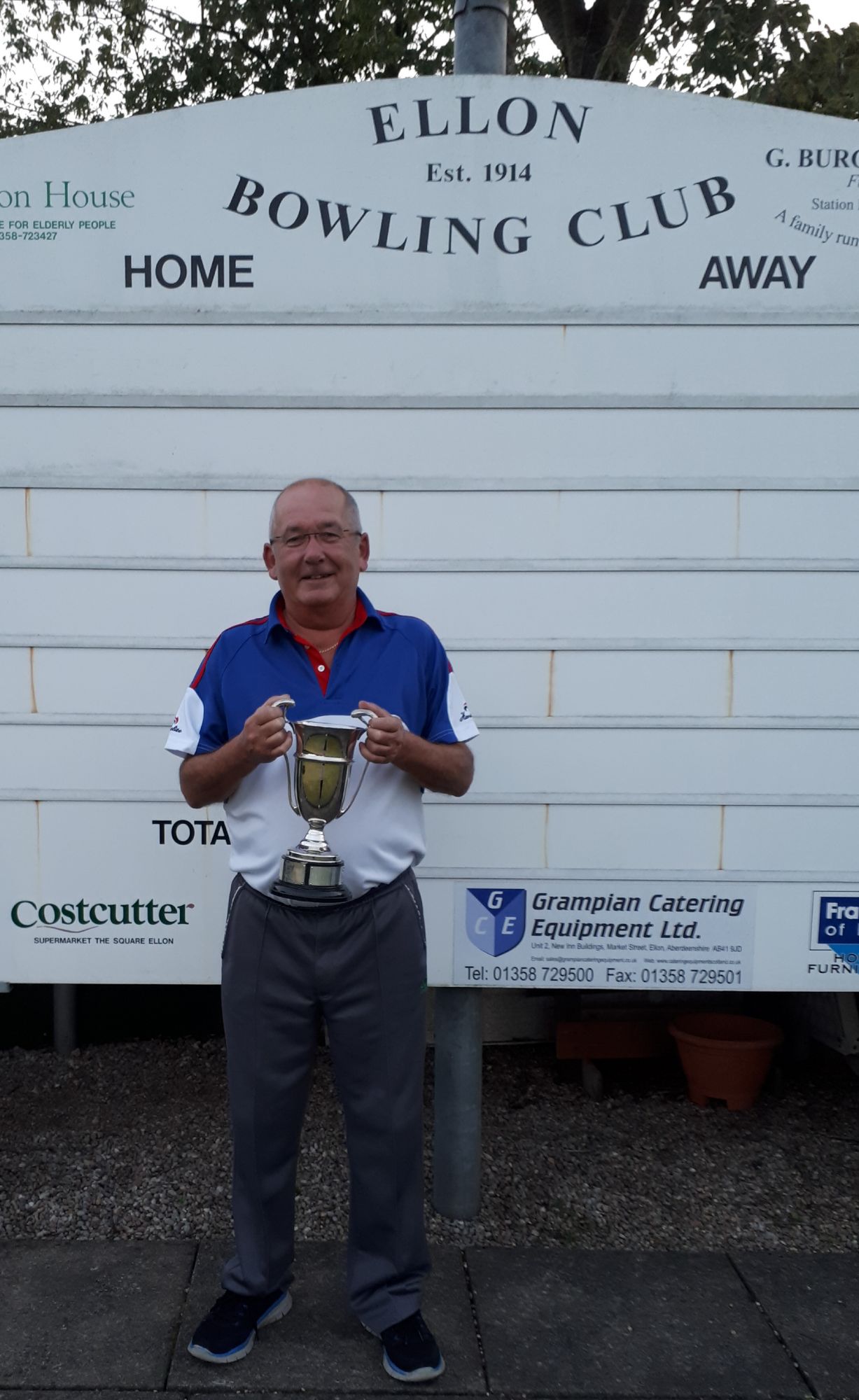 MICK BROADLEY WINS GENTS SENIOR SINGLES
Mick Broadley beat Allan Giles to win the Gents Senior Singles

MAUREEN AND GILLIAN SINCLAIR WIN LADIES PAIRS
Maureen Sinclair and daughter Gillian Sinclair beat Mary Legge and Lorna Owen in the Ladies Pairs final.

MAUREEN SINCLAIR BEATS ANN SINGER IN LADIES SENIOR SINGLES FINAL
Maureen Sinclair has won the Ladies Senior Singles after beating Ann Singer in the final.

ELLON LADIES DEFEATED BY INVERURIE IN CROWMALLIE FINAL
Ellon ladies, who were defeated in the final of the Crowmallie Cup by Inverurie ladies at Kintore.From left to right are Lorraine Milne, Maureen Sinclair, Gillian Sinclair, Ann Giles, Anne Singer, Mary Legge.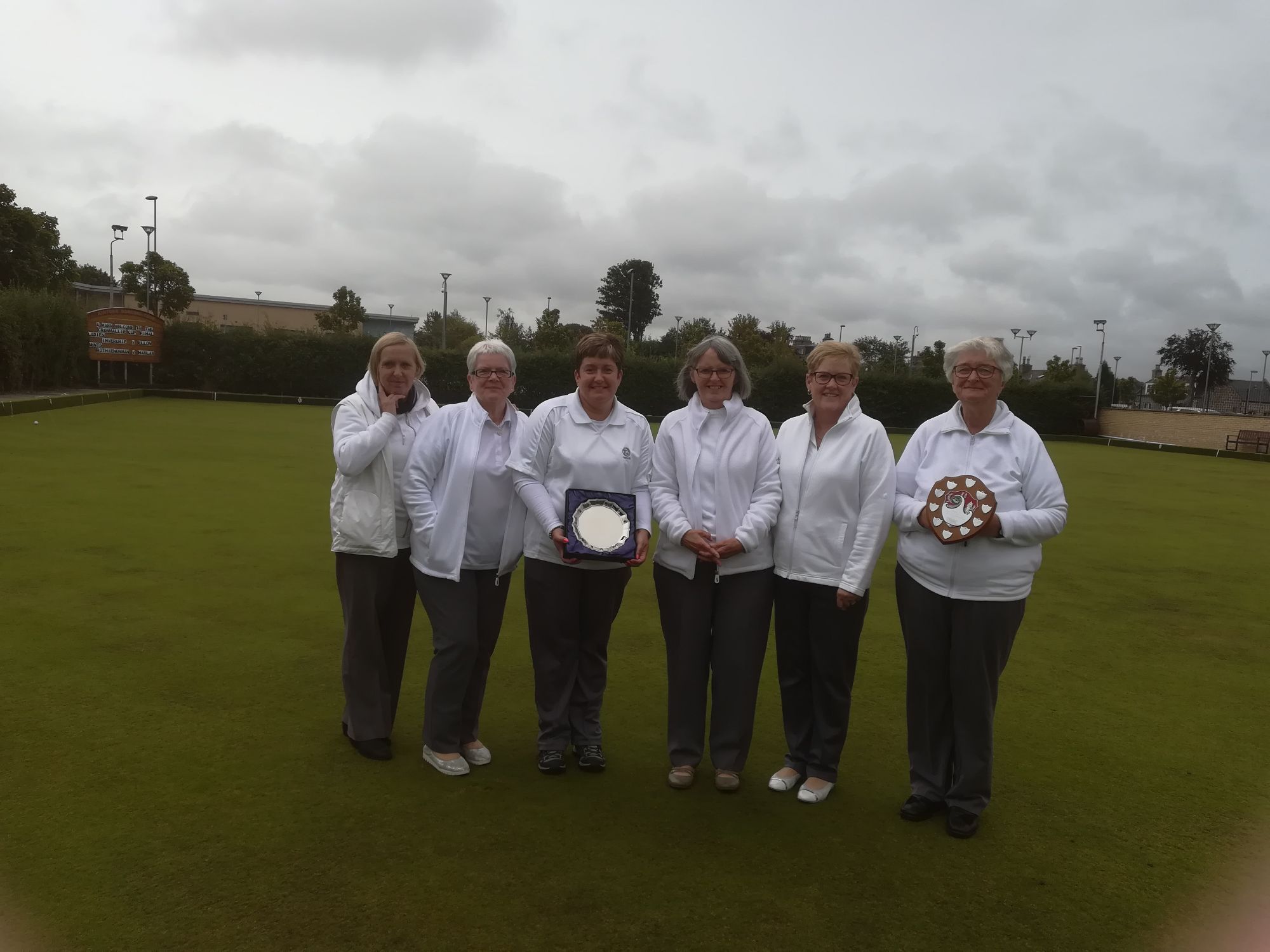 FINALS NIGHT AT ELLON BOWLING CLUB AS COMPETITIONS DRAW TO A CLIMAX
Tonight seen the finals of the Ladies 2 Bowl Pairs, Senior Pairs and the Mixed Handicap Singles. Caroline Milne and Ann Singer beat Ann Giles and Maureen Sinclair in the Ladies 2 Bowl Pairs, Bob Thomson and Mick Broadley beat Albert Low and Jim Elrick in the Senior Pairs final and Les Keith beat Grant Campbell in the Mixed Handicap Final.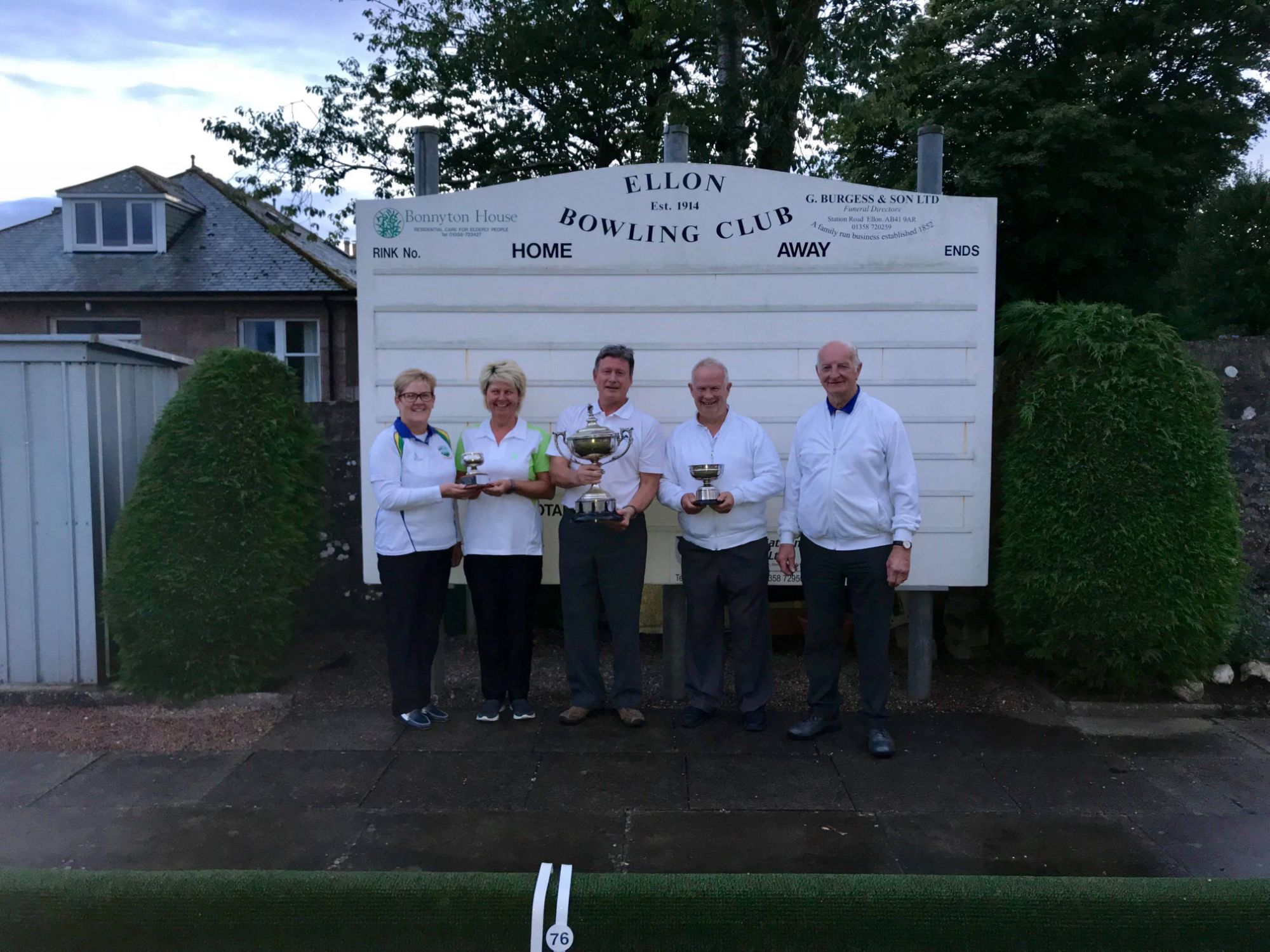 ELLON LADIES BEAT NEWHILLS IN CRIAGIE LADIES FINAL
Ellon ladies beat Newhills at Harlaw bowling club this afternoon.

PETER KNOLL AND BIRNIE ROBERTS WIN TWO BOWL PAIRS
Congratulations to Peter Knoll and Birnie Roberts who won the 2-bowl Pairs this afternoon noon at the club.


WILLIE AND SHIRLEY BEAT GRANT AND CAROLINE IN MIXED PAIRS FINAL
Shirley and Willie Christie won the Mixed Pairs against Caroline Milne and Grant Campbell. After a cadgy start after the game was tied at 4-4 the Christies took the lead and never looked back winning the game 20-10 despite Caroline and Grant's best efforts.


ELLEN WINS LADIES HANDICAP FINAL AGAINST FORMER SINGLES WINNER GILLIAN
Ellen Bartlet beat Gillian Sinclair 21-18 in the final of the Ladies Handicap Singles. Ellen started well and got a sizable lead over Gillian who then rallied however it was Ellen who took the spoils in a enjoyable match to watch.

PRESIDENT'S TEAM WINS ELLON SUPER 6
Congratulations to Jim Elrick and his team who won the Jock Sinclair Cup for the Ellon Super Six Competition this afternoon. Maureen Sinclair was on hand to present the prizes.Runners Up - Kittybrewster & Woodside 3rd Place - Mary Legge 4th Place - Pitmedden.The club would like to thank Phil Anderson Financial Services Ltd. for their continued sponsorship of the competition.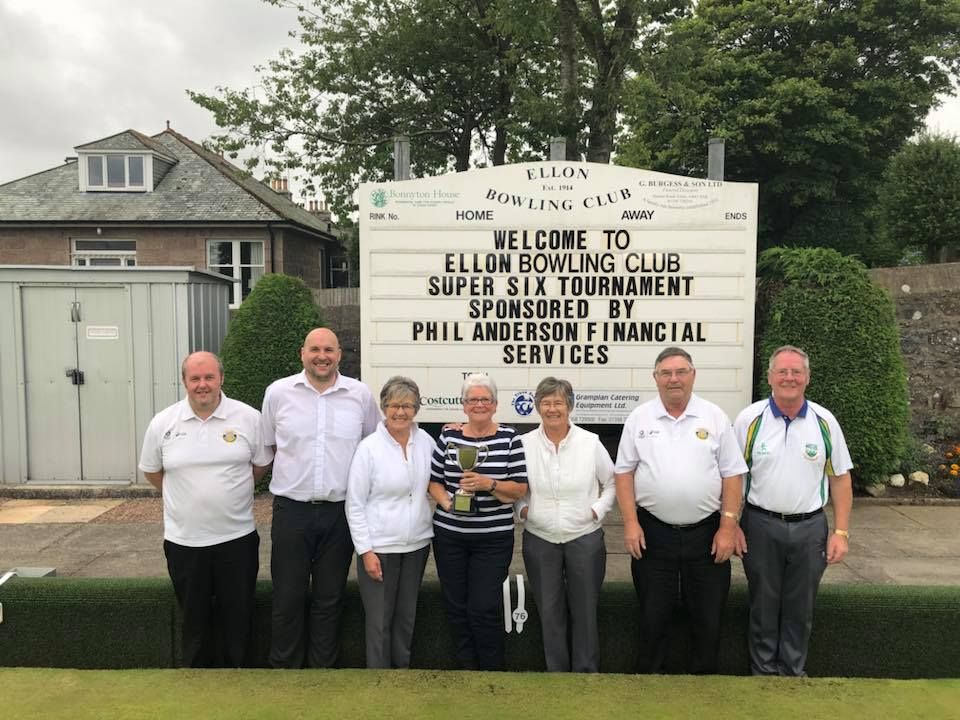 CLUB TRIPLES
Les Keith, Allan Giles and Drew Robertson has won the 2018 club triples
MICHAEL STEPHEN WIN GENTS TWO BOWL SINGLES
Congratulations to Michael Stephen who won the final of the Gents Two Bowl singles 12-5 against Alistair Campbell. Thank you to everyone one who took part and all the markers who made the Sunday session possible.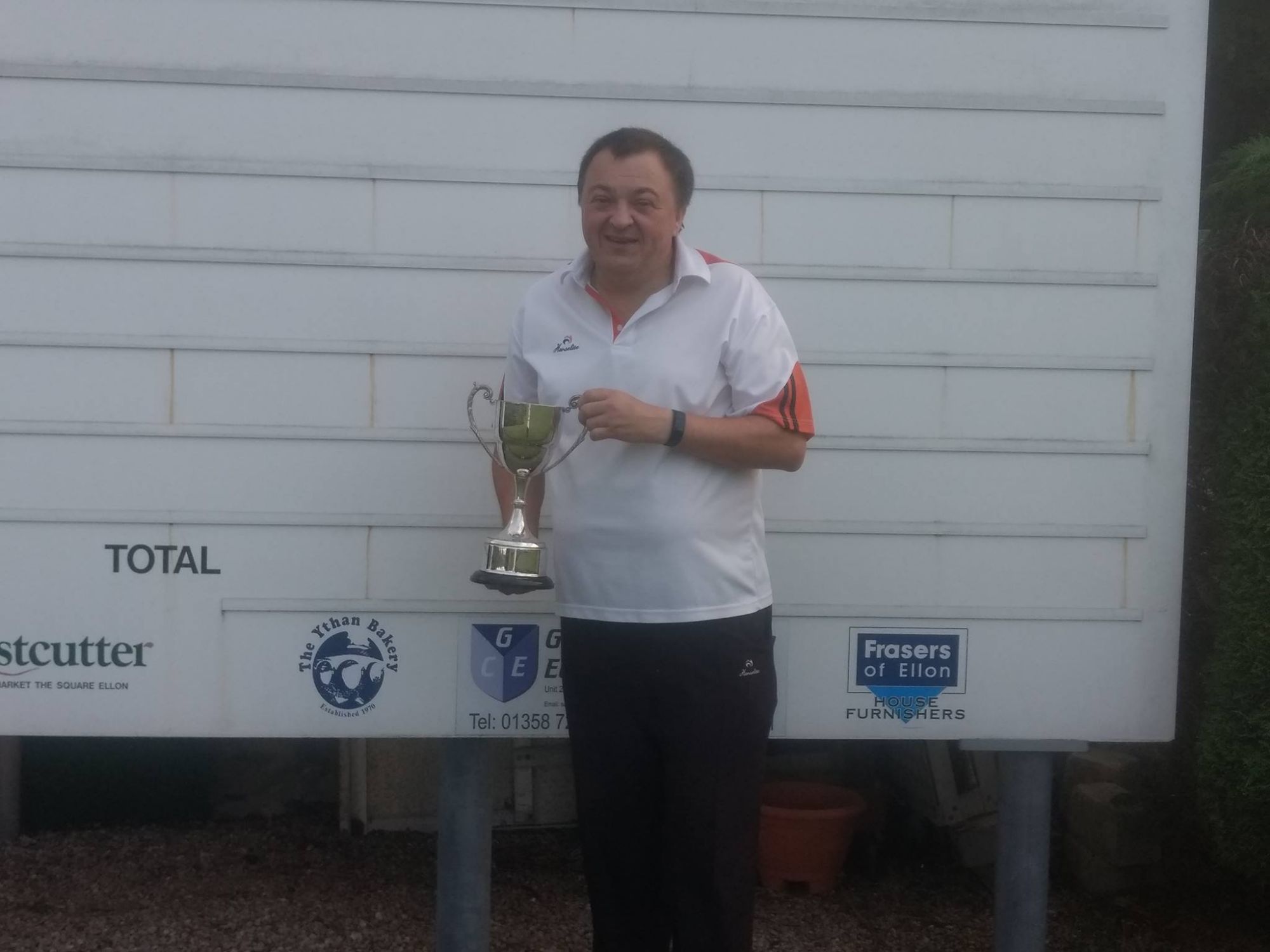 LES KEITH AND DAVIE THOMSON TRIUMPH WITH FRASER PAIRS WIN
Congratulations to Les Keith and Davie Thomson who won the Fraser Pairs this afternoon (8th July 2018). The winners pictured from left: Les Keith and Davie Thomson.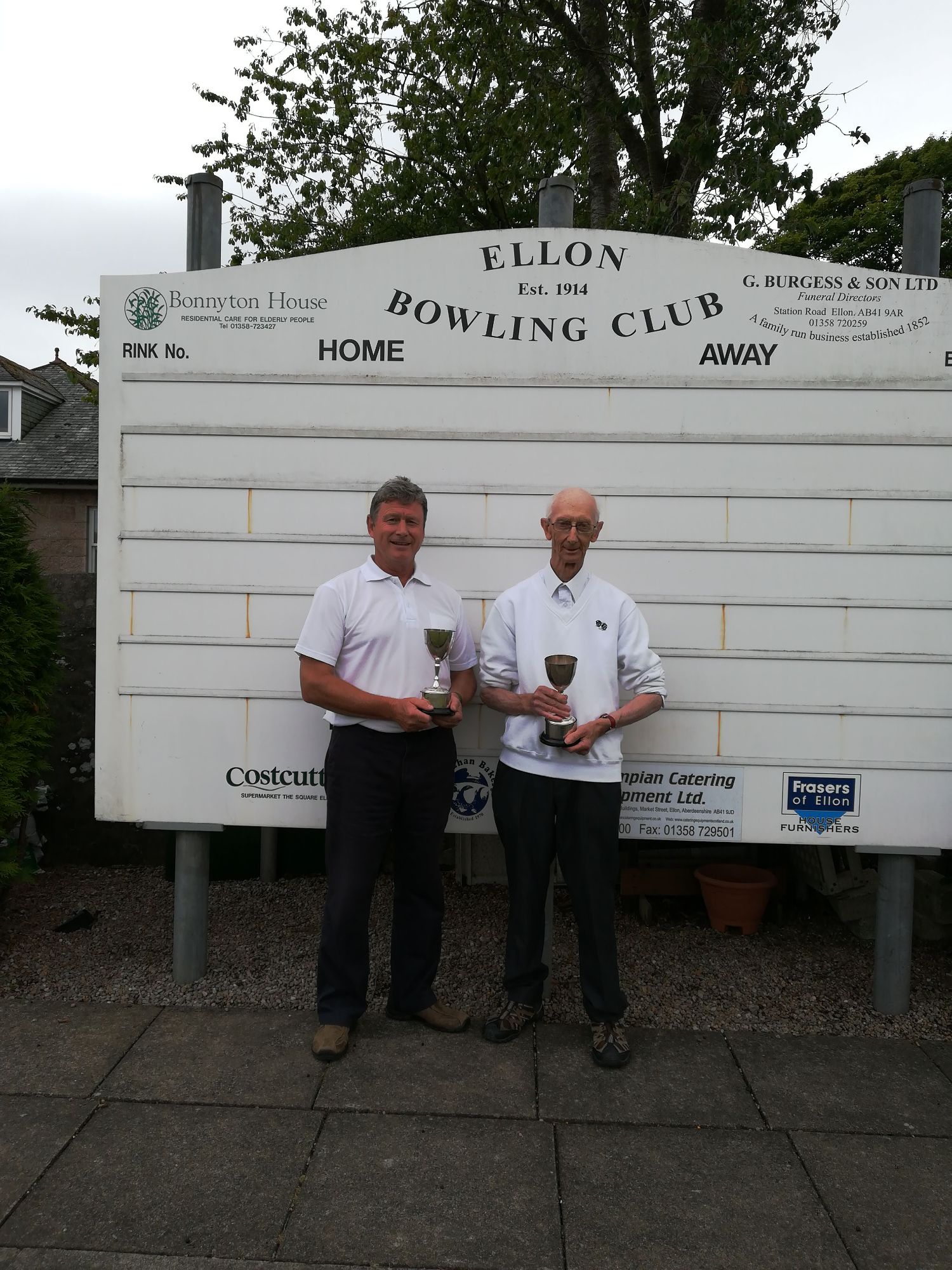 GDPR PRIVACY NOTICE
Due to European Union legislation on changes to personal data, there will be a letter posted to all members asking for your consent on us continuing to use your personal details for club purposes for telephone list, photographs, emails e.g. Please see a copy of the consent form by clicking below.
GREEN SMOKING POLICY
At the 2018 AGM A motion was passed to ban smoking including vaping on the bowling green. people wishing to smoke will have to leave the green to smoke.
Site last updated on Thursday 6th September 2018